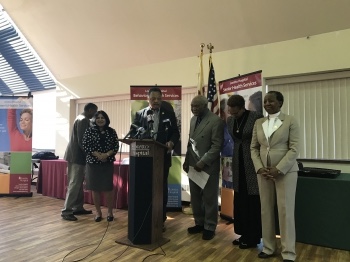 By Michael Romain
Several years ago, a sudden, "catastrophic" diagnosis of end-stage renal disease forced Monica Fox to stop working.
"I spent three years on dialysis — three days, four hours at a time," said Fox, who received a kidney transplant five months ago, a gift she attributed to the Affordable Care Act.
Fox spoke at a press conference held earlier this month at Loretto Hospital in Austin, joined by U.S. Rep. Danny K. Davis, Rev. Jesse Jackson, state Rep. Camille Lilly, health-care providers and union officials.
The press conference was held one day after the Republicans in the U.S. House of Representatives narrowly passed a bill, called the American Health Care Act of 2017, designed to repeal and replace the ACA, popularly known as Obamacare.
Fox and others who spoke at the press conference variously called the Republican plan "Trumpcare," "Trumpdon'tcare" and "Nothingcare."
"The ACA made it possible for me to have the proper insurance I need," said Fox, who lives in the south suburbs.
"While I have been unable to work, I'm getting to the point of going back to work. If [the Republican plan] goes into effect, I will be faced with devastating news that I have a pre-existing condition that may not be covered by my employer's insurance," she said. "That's disgusting, and whoever thinks that's a good idea is sick."
Igor Studenkov, a Wednesday Journal freelancer, wasn't covering last week's press conference. Instead, he was part of it, attesting to why he believes the ACA saved his life. In 2014, Studenkov was diagnosed with Non-Hodgkins Lymphoma.
"This meant I had to take chemo for 12 weeks, once every two weeks," he said. "I was able to qualify for Medicaid expansion. After the treatment, I was declared cancer-free and am still in remission. But honestly, I don't know what I would have done if Medicaid expansion did not exist."
The Republican plan, which passed 217 to 213 on a party-line vote, now makes its way to the U.S. Senate, where many Democratic and Republican lawmakers, including Davis, believe it's likely to either die from lack of support or be completely overhauled.
During the May 4th press conference, Jackson and others didn't mince words when talking about the Republican plan's potential effects on the lives of poor, elderly, disabled and minority Americans.
"In Illinois, 37 percent of the children receive coverage through Medicaid. There are 649,000 Illinoisans enrolled under ACA and this bill is designed to … cut that out and replace it with Trumpcare, Nothingcare," Davis said.
"Implementation of the Republican bill will lead to loss of coverage for 24 million people nationwide. Overall, 44,269 Illinois residents are covered under the ACA and [more than 252,000] are covered under expanded Medicaid, which will be in danger in Illinois."
Rev. Jackson said, "This is a shame, an international disgrace," adding the attempt to repeal the ACA marked "the unraveling of our democracy."
Rep. Lilly, who is also Loretto's vice president for external affairs and development, said the repeal of the ACA will "harm our local community here in Austin and on the West Side. It will devastate us."
Lilly referenced a bill she introduced in the Illinois House that allows felons returning home from prison to get signed up with the ACA 45 days before their scheduled release.
Loretto's CEO and chief medical officer, Dr. Sonia Mehta, said a possible repeal of ACA would "negatively impact our ability to take care of our communities," adding that 85 percent of Loretto's patients are enrolled in either Medicare or Medicaid.
Oak Park resident Melanie McQueen said the bill will put children with preexisting conditions in danger.
"This is literally a life-and-death situation," she said. "There's no reason in today's age we have children who will die because of something preventative. When we say it affects all of us, it affects even our unborn children."