Austin resident Terrah White arrived at the Cook County Medical Examiner's office Saturday tightly holding a folder. Inside were ID photos and police reports for her missing fiancé, Adarius James, 36.
"I'm here for my kids' father," said White, whose 9- and 12-year-old sons accompanied her to the event. "He's been missing since 2011."
That's when the boys' father walked out of their West Side house and never returned home. The 35-year-old administrative assistant said she still had no idea why he went missing and where he could be now.
"I went to Chicago Police [Department]. I filed several police reports . . . I hired lawyers and private investigators to help me look for him. But they never found him," said White, fighting back tears.
She has photos and documents that could help identify her fiancé, who grew up in K-Town, if he is found, White said, but what she doesn't have is closure.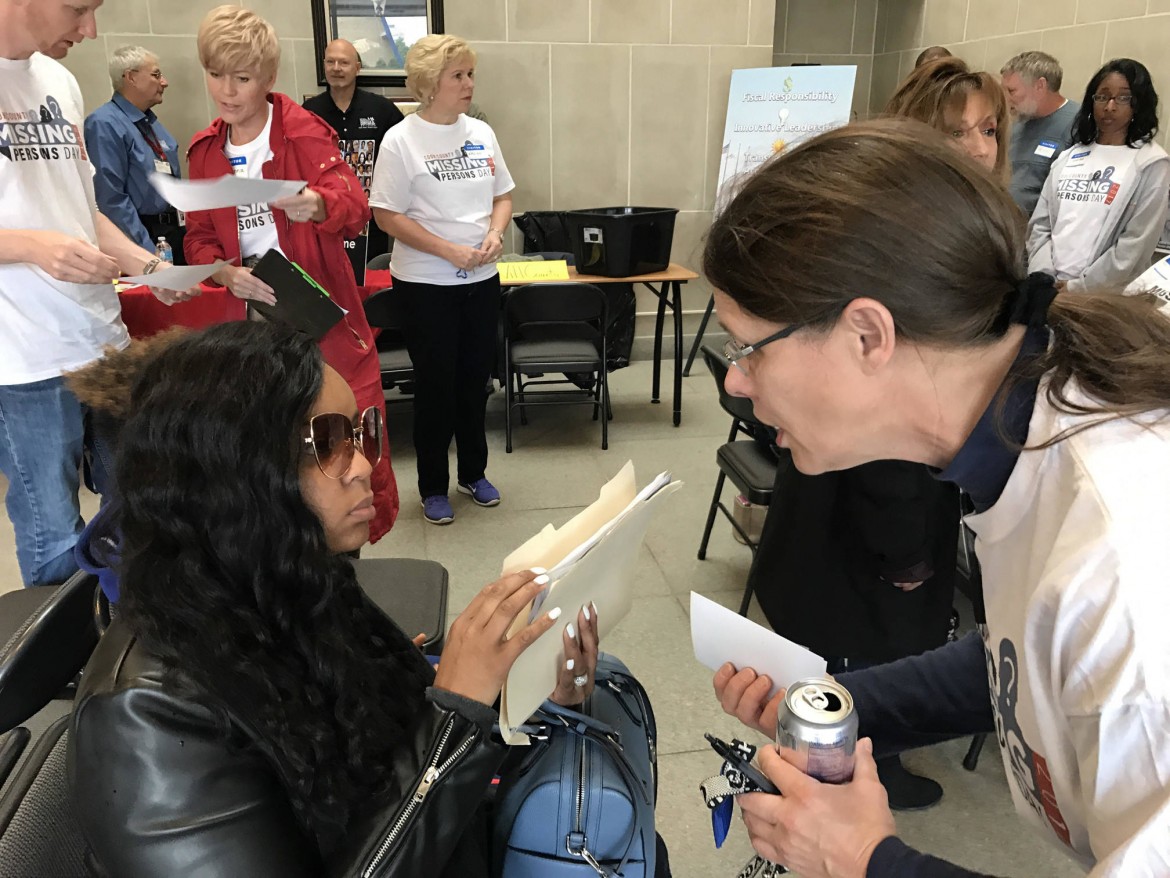 "We don't know what happened," White said. "So this is the next step. I decided to just come down to see if there's a possibility that his remains could be here."
White was among dozens of residents from across the state who came to the first missing persons day, held at Robert J. Stein Institute of Forensic Medicine, 2121 W. Harrison St.
Representatives from the Cook County Medical Examiner's office, volunteers and retired law enforcement professionals provided on-site assistance to the relatives and friends of people who've been missing, from a month to decades.
They handed over DNA swabs, ID photos, medical and dental records, and X-rays to see if their loved ones could be among the 21 unidentified bodies and remains at the Cook County morgue.
Some filed police reports or entered information into the missing person database for future identification.
Dr. Ponni Arunkumar, the chief medical examiner, said his office intends to make this an annual event.
"We compare the dental records of the living person with the deceased person," said Dr. Arunkumar, noting that's the quickest way for someone to be identified. "And this is just one step that would kind of give closure to the whole process."
Jason Moran, a Cook County sheriff's detective, said the county has nearly 1,500 open missing person cases, evenly divided between the city and the suburbs.
Moran said the reason someone goes missing varies.
"With juveniles, a lot of the times it's runaway situations," he said. "With adults, some of them are going through problems like [a] bipolar episode and other mental health issues."
While many at Saturday's event were from the Chicago area, a few traveled farther.
Susan Olsen, 63, who provided mental support and consultation services to the families, has been looking for her son, Bradley P. Olsen, for more than a decade.
"I'm familiar with a lot of these cases," said Olsen, pointing to the photograph wall behind her that displayed dozens of photos of missing persons spanning from 1957 to 2015.
"Stacy Peterson, John Spira …" she said, naming some of the cases she's helped with. "Those happened a short time after my son went missing. So I was involved in all of those searches."
Olsen traveled more than 60 miles to Chicago from DeKalb, where her son disappeared in 2007 at the age of 26.
"I'm here to try to help and support other people going through the same thing," said Olsen, who had talked with three families in the first hour of the event.
She said some of them had not entered DNA or the names of the missing persons into the National Missing and Unidentified Persons System.
"You know some have been missing for over 10, 20, 30 years that may never be found, but they also could be laying in a morgue or somewhere or have had in the past," Olsen said. "So this is a great way to make sure that you have everything for families who haven't entered DNA or dental records before."
DNA samples were collected on behalf of 23 missing persons at Saturday's event.
Anne Bielby, a volunteer from the Illinois Guardianship & Advocacy Commission, said most people on the photograph wall displayed Saturday were from the Chicago area.
"There's a lot more than these," Bielby said, looking back at the 24 photos. "We just don't have enough wall space."
Among the photos was Yasmin Acree, a 15-year-old who's been missing since Jan 15, 2008. Yasmin was last seen at her Austin home.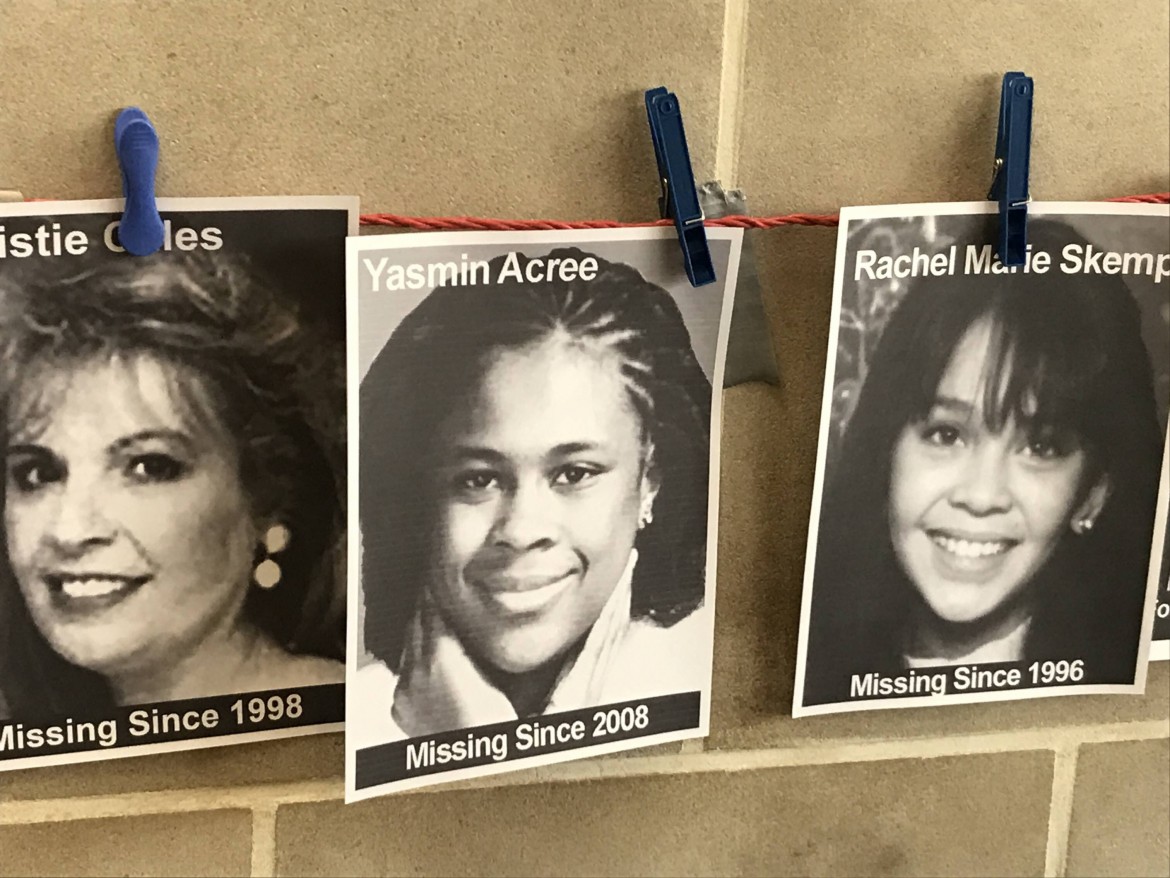 Although Acree's family was not at Saturday's event, her case was known to many in attendance. Initially, Chicago police handled the teen's disappearance as a runaway case, but later acknowledged she was possibly abducted. Acree's family blamed the mishandling on the teen's race and the fact that she came from Austin, according to the Chicago Tribune.
Despite a nationwide, years-long search, the police have not found Yasmin, said Anthony F. Graffeo, a retired CPD detective who volunteered at the event as a representative for Project Alert.
Graffeo said he was part of the team that acquired Yasmin's dental records in Kentucky several years ago that will be used to identify the girl if her body is found.
"I hate to say deceased," said Graffeo, who has decades of experience handling missing children cases. "But sometimes we know the realities."
Graffeo said he was at the event to offer support to the families whose children have gone missing.
He said one challenge in solving missing children cases is the lack of funding.
"They don't have enough people working because of budget constraints," he said. "The cases just keep piling up."
Moran, the Cook County sheriff's detective, agreed: "The rapes, robberies, homicides of today take precedence over missing person cases. And that's why a lot of times missing person cases kind of get pushed to the side."
Moran said the event was a good way to raise awareness: "Any awareness that we can bring to this issue is positive."
Others said the event was an opportunity for families of the missing to communicate with and support each other.
"When there's an event like this, they get together and talk, it's wonderful for them," said Bielby, who has been working with families for more than 20 years.
Olsen agreed: "Because everybody's story is a little different. But in the end we all have missing loved ones."