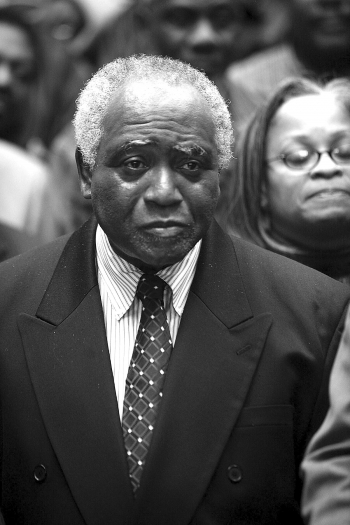 The son of U.S. Rep. Danny K. Davis died last week.
"I am sorry to announce the passing of my son, Stacey Wilson," the congressman said in a statement issued Friday, March 3o, the day after Wilson was found dead in his Bronzeville home.
The congressman said his son had always been relatively healthy, but he "went home from work sick about three weeks ago and ended up at Loretto Hospital for three or four days."
After being discharged from Loretto, Wilson "ended up feeling bad again and went to UC Hospital," Davis said, then later was treated at Trinity Hospital before returning home.
Stacey Wilson lived alone, and when a friend tried to call Thursday and got no answer, he went to the home and found Wilson had died.
Davis said his son suffered from kidney problems, diabetes and "extremely high" blood pressure.
The Cook County medical examiner's office said Wilson was pronounced dead about 9:40 p.m. March 30 in his home. Results of an autopsy conducted Friday were inconclusive, with cause and manner of death pending further investigation, the Chicago Sun-Times reported.
"My family and I appreciate the condolences and expressions of concern which had been expressed," Davis said.
Wilson was the father of Javon Wilson, Davis's 15-year-old grandson who was killed inside of his family's Englewood apartment in November after an argument over clothes. Prosecutors charged two teens with murder before Javon Wilson's was laid to rest, according to the Chicago Sun-Times.
"It's tough when you cannot predict for them with any sense of certainty that the quality of life for them is going to be better than what it has been for their parents and grandparents," Davis told the Chicago Tribune at the time of his grandson's murder.
Henderson Yarbrough, a former Maywood mayor and sitting trustee, said he once worked with Stacey Wilson.
"So very sad today after hearing of the passing of my friend former co-worker [Stacey] Wilson," Yarbrough wrote in a March 31 Facebook post. "[Stacey] and I had a very genuine and meaningful relationship, and I looked upon him as a son. I will miss his calls and our lively conversations."
Repast will be at 2 p.m. Sunday, April 9th at Greater Holy Temple Ministries, 5906 W. Chicago Ave., followed by the wake at 3 p.m. and the funeral at 4 p.m.

Rev. Paul Jakes, a long-time family friend, will deliver the eulogy.
In lieu of flowers, the family requests contributions be made to the Javon Wilson Scholarship Fund, c/o Sankofa Safe Child Initiative at 4041 W. Roosevelt Road, Chicago 60624.
Cards and resolutions may be sent to: 5956 W. Race, Chicago 60644.
Stacey Wilson has two surviving children: Stacey Jr. and Khaliyah, and one grandchild, Stacey, III.