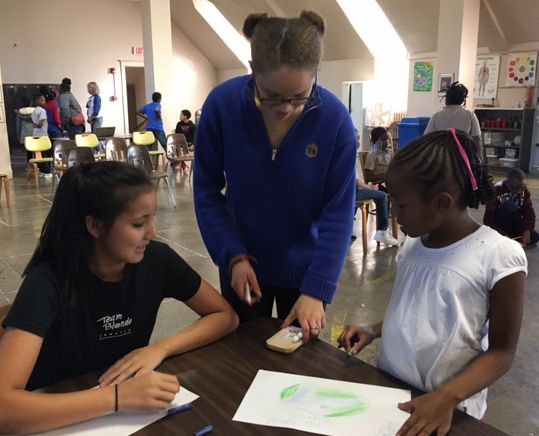 Oak Park high school student Sydney Jackson spent her sophomore year a couple of years ago volunteering for a South Side youth mentoring group.
That experience inspired Jackson to start her own organization closer to home on Chicago's West Side. Jackson, 18 and now a senior, started Roses 4 Austin, originally with about five her classmates at Oak Park and River Forest High School.
There are about 40 students working with the kids at St. Catherine of Siena -St. Lucy School in Oak Park, located on Washington at Austin Boulevard.
Once a month on a Friday after school, Jackson and her classmates teach dance as well as arts and crafts to about 100 students at St. Catherine-St. Lucy Parish, the church Jackson attends.
Its grammar school serves primarily African-American families; the student population is about 98 percent black. Jackson said the school has no art teacher, which struck her because she's had dance and other performing arts throughout her school years in Oak Park.
"It's just my small way of addressing how rich in resources Oak Park is and how other children are just as deserving as those of us who grew up in Oak Park," said Jackson, a dancer who's performed in middle school and high school productions.
After volunteering two years ago at Roses 4 Roseland, located in the South Side neighborhood of Roseland, Jackson approached her church and asked how can she help their students. Jackson recruited some classmates and got support from some Oak Park High faculty.
"She's great; it's remarkable what's she done," said Richard Mertz, a history teacher at the school.
Jackson was friend's with Mertz's son before he graduated. After talking about what she wanted to do, Mertz offered to drive Jackson and the other students every month to St. Catherine-St. Lucy on one of OPRF's buses.
Jackson's passion for the program impressed Mertz.
"She's very charismatic. My son kept telling me how smart she is and about her work ethic," said Mertz, who also sees the importance of Oak Park students helping those who are less fortunate.
The majority of OPRF students volunteering, about 75 percent Mertz estimates, are white with the rest African American.
"There's a group of kids that understand privilege that exists in Oak Park, so we're seeing much more grassroots efforts," Mertz said. "It's nice to see the races coming together."
Jackson said she wants to bridge the gap between the two communities and inspire more Oak Parkers to do more on the West Side.
"A lot of people are well intentioned, but they're looking for leaders," she said.
"People don't necessarily know how to attack this yourself. You don't want to just walk over into Austin and say, 'Hey, I'm this white person, and I'm ready to help you out with my privileged in life.' It's about making people of Oak Park more acquainted with Austin and Austin more acquainted with Oak Park."
Jackson said she wants Roses 4 Austin to continue at the high school after she graduates in June. Becoming a nonprofit and sponsored school club would help achieve that, she said.
Any OPRF student can volunteer and help out, she added.
"This is my way of trying to bridge the gap. Why is it that I've always had arts and dance classes to express myself where other students never knew that was possible?"