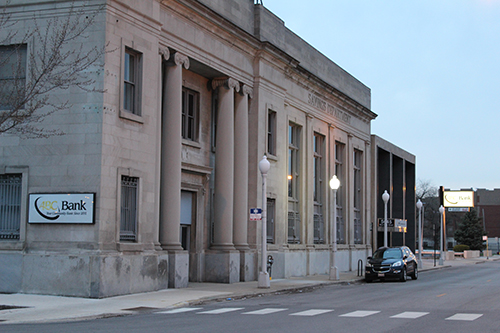 Catholic Charities of the Archdiocese Chicago will be opening a new social services office in Austin this summer.
The faith-based non-profit's new space will be at ABC Bank, 5645 W. Lake St. and is scheduled to open by June. Catholic Charities, one of the oldest charities in the nation, has 150 neighborhood satellite offices throughout the city and suburbs.
The non-profit's Austin locations include the Peace Corner Youth Center, 5014 W. Madison. Services available at the bank location are still being determined but could include a food pantry and veteran's center, said Kristine Kappel, the charity's director of communications.
"We hope the community is as excited as we are to be able to expand our services in the Austin," she said, adding that Austin has seen a greater need for its services.
"A lot of what we do is respond to the community's needs. In the Austin community in particular, we're seeing a growing need for counseling and trauma therapy care for youth."
The Chicago non-profit's parent, Catholic Charities USA, is one of the largest charitable organizations in the United States. Listed No. 9 last year by Forbes magazine, the organization raised $921 million in 2016. The Chicago affiliate raised some $28 million from donors in 2016, according to its annual report.
Space at ABC Bank became available as the branch looks to downsize some of its operations at the aging Lake Street facility. The branch will move its administrative offices to its Galewood branch at 6400 W. North Ave.
ABC Bank has two other Chicago branches as well as locations in Bensenville and Batavia.
Bank Chairman Sam Scott said the Galewood relocation should be completed by June 1. As a charity, Catholic Charities is receiving the space as a gift and with no lease or rent obligations, Scott said.
The bank, he added, no longer needs the entire 25,000 square feet of space in the century-old facility as customers do more banking online and on their smart phones. The more modern west wing will continue to operate and serve walk-in customers.
The charity's new office will open in the east wing and have its grand opening sometime this summer, Kappel said, adding: "It's a beautiful, large space, so we were very grateful for the gift from the bank."
As for sharing space, Scott said the bank was looking for community partners interested in moving into the facility.
The chairman also dispelled rumors that the bank itself is closing. Scott said those rumors aren't true and the institution "is very solid and will continue to be the bank for the Austin community."
Kappel said the new Austin office comes at a special time as the charity is celebrating its 100th year anniversary.
"We're always looking for opportunities to grow and expand our services, and to serve the people who need us most," Kappel said.