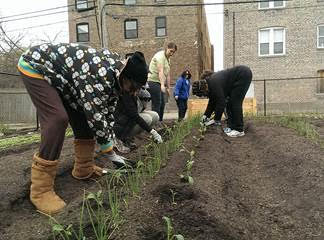 The PCC Austin Farm at PCC Community Wellness Center launches its third season of urban gardening workshops this week to encourage Austin residents to grow their own fruits and vegetables for a healthier lifestyle.
Held during lunchtime, the "Lunch & Learn" workshops teach individuals how to grow local, sustainable produce using organic practices. Sessions are free and open to the community.
The first session will be held Thursday, March 23 from 12 to 1:30 p.m. in the second floor conference area of PCC Austin Family Health Center, 5425 W. Lake St.
As a community health center, PCC is committed to offering affordable, healthy foods to Austin residents who live in a "food desert."
PCC has already increased access by cultivating organically grown produce at its Austin Farm and making that produce available at the PCC Austin Farm Stand for very low prices.
The workshops provide a good foundation for both beginning and intermediate gardeners.
Here's the schedule:
April 20

— garden planning

May 25

— healthy soils

June 22

— plant health

July 27

— how to harvest fresh vegetables

Aug. 24

— season extension

Sept. 26

— healthy eating from the garden
For more information, contact Lucy Flores, community outreach health education manager, at (773) 413-1240 or lflores@pccwellness.org.