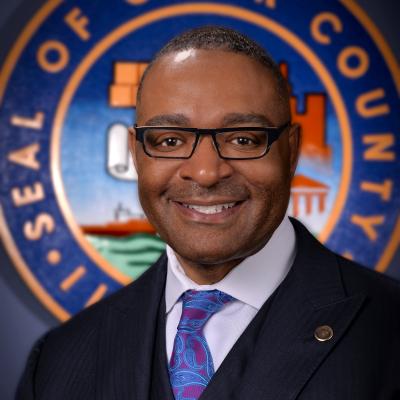 The Cook County Board of Commissioners Wednesday approved a resolution asking the federal government for more money to help reduce crime in Chicago.
West Side Commissioner Richard Boykin drafted a resolution last month asking President Donald Trump to provide help, responding to Trump's threat, via a tweet, of sending the feds to Chicago to crack down on violence.
Wednesday's hour-long debate, however, grew contentious as Boykin's resolution went down in a procedural vote. North Side Commissioner Larry Suffredin offered an alternative resolution that the full board approved 11-4, with two commissioners absent.
Boykin, along with Commissioners Sean Morrison, Timothy Schneider and Jeffrey Tobolski, voted against the measure.
The alternative, they argued, didn't address the South and West Sides specifically, where much of the violence is taking place. Suffredin's version, they added, was directed to the federal government as a whole and requested money for every Chicago community.
Boykin and his supporters expressed disappointment with the alternative, calling it vague and a request for "the status quo."
Suffredin and his backers countered that Boykin's version wasn't specific enough.
Opponents of the alternative also fear the South and West sides won't get the resources it needs, while supporters stressed that those communities will be helped by whatever money comes from Washington, D.C.
But that argument didn't sway opponents.
"Who does this go to?" said Boykin, whose district includes Austin. "The federal government is a big monstrosity. It doesn't say it'll go to the president, it doesn't say it'll go to anybody."
Opponents also questioned whether their colleagues were put off by addressing the president directly.
"I think anything with the name Donald Trump on it, we're going to find something wrong with it and go against it, and I think that's wrong," Commissioner Schneider said.
The president first commented about Chicago's violence in a Jan. 24, tweet. He did so again last week during a Washington, D.C., breakfast with black leaders, saying, "If they're not going to solve the problem, then we're going to solve the problem for them," according to various media outlets covering the event.
Cook County commissioners joined Mayor Rahm Emanuel in calling for federal help, including from the ATF and FBI. Chicago had 784 homicides in 2016, according to Chicago Police data compiled by Chicago Tribune. The city has recorded 61 homicides so far this year, nine of them in Austin.
Commissioners backing the alternative resolution insisted the city needs a "holistic"
approach to curb violence.
"This resolution is broader, and it's aimed at the federal government," Suffredin said, noting that his measure requests money for such things as workforce development, police training, and reducing gun violence.
"These are programs that we want to continue and expand," Suffredin said, adding that past resolutions by the board were not aimed at only the president.
West Side Commissioner Robert Steele, who voted for the alternative, added: "The substitute speaks to more items than just the deaths that we're having in those communities."
But Commissioner Tobolski, in backing Boykin's effort, insisted a new spending approach is needed.
"The violence and death toll continue to escalate at alarming numbers in Chicago. Either the money is misplaced, or it's going where it's not being effective," Tobolski said. "I support my colleague. All he's trying to do is find the resources that are necessary to help his people and represent his district."
---
Vote Count on Trump resolution:
Yes: Larry Suffredin (13th), Luis Arroyo Jr. (8th), Jerry Butler (3rd), John Daley (11th), John Fritchey (12th), Jesús García (7th), Edward Moody (6th), Stanley Moore (4th), Peter Silvestri (9th), Deborah Sims (5th), Robert Steele (2nd)
No: Richard Boykin (1st), Sean Morrison (17th), Timothy Schneider (15th), Jeffrey Tobolski (16th)
Absent: Bridget Gainer (10th), Gregg Goslin (14th)