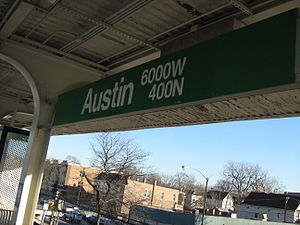 Commuters waiting for the Austin Green line are already facing frigid winds this winter without having to worry about inhaling hazardous fumes.
But when freight trains idle less than 20 feet away from the platform, none of them can escape the diesel pollution.
The train platform places commuters in Austin right between "L" tracks and tracks shared by the Union Pacific Railroad and Metra. While only the "L" train has a designated stop, the Union Pacific freights frequently sit and idle alongside the platform for hours at a time, commuters say.
These idling freights emit diesel particulates that pose health risks to those close enough to inhale them, especially for the crowds standing on the platform.
These diesel particulates lodge in the lungs and can lead to health problems, such as asthma, chronic obstructive pulmonary disease (COPD), heart disease and lung cancer. Children and adults with compromised lungs are at an even greater danger for health problems.
"If you were to pick a place to idle, this is not a good place," said John Kukla, who uses the Green line stop daily to commute to his job as a financial manager.
For Kukla, 48, the idling freights have an even greater impact: he lives right across the street from the Austin stop and can see them from his living room window.
At night, when the freight trains often idle, the noise is so loud he's unable to hear his TV or sleep.
There are no prominent signs on the "L" platform with information for commuters to call and complain about pollution and health concerns.
With some research, Kukla found the call number for "reporting unusual or suspicious occurrences and environmental hazards" on the Union Pacific website several years ago and has been calling (888) 877-7267 to report idling freights located at the intersection of North Austin Boulevard and West Corcoran Place.
Over the course of the 10 years he has lived in Austin, Kukla has noticed some improvement in the railroad company's response to his calls.
While five years ago locomotives would idle for an entire weekend, he now sees them two to three times a week, and they usually move within 20 to 30 minutes after he calls to complain.
While calling the railroad company seems to be effective about half the time, Kukla said he believes strength in numbers might make a difference in getting the train operators to be more responsive.
"I don't know if it's on everyone's radar," Kukla said. "People are not even aware of what they're breathing in."
Ald. Chris Taliaferro said he has not heard any complaints about the freight idling or any other environmental concerns in the 29th ward. The alderman has communigty meetings every first and third Wednesday of the month, and individual meetings on Mondays (at 6272 W. North Ave.) where citizens can share complaints. He said these issues have not been raised with him.
"I think [the railyard] might [do more to stop the idling] if 50 people were calling the call number instead of just one," Kukla said.
Kukla voiced his concerns recently at a Central Austin Neighborhood Association meeting – a community organization focused on improving the quality of life for its residents.
According to President Serethea Reid, the group has a Facebook page and sends out a monthly email but has no other way to publicize the call number to complain about exposure to harmful pollution.
Taliaferro said residents should call Union Pacific directly to alert them.
Union Pacific did not return calls for comment.
While the city of Chicago limits idling for on-road diesel vehicles to three minutes within any 60-minute time period, no such anti-idling ordinance currently exists for freight trains.
"The absence of an anti-idling ordinance for freight trains – and the lack of enforcement of the existing anti-idling ordinance for on-road vehicles — make it very difficult to make progress towards lowering the levels of diesel pollution in the city," said Susan Mudd, senior policy advocate for the Environmental Law & Policy Center (ELPC).
The Chicago-based non-profit group works with other local advocacy groups to call attention to the dangers of diesel pollution and the need for more protective city ordinances.
Kukla hopes that raising awareness of the health risks posed by the idling freights, as well as publicizing the call number, will help eliminate future idling. Tougher city ordinances would be a good remedy as well, he added.
"You want to feel like you have some power when a big thing is sitting outside your house. You don't want to just call and call and call."
Magnuson is an intern at the Environmental Law & Policy Center and a recent graduate of Loyola University.