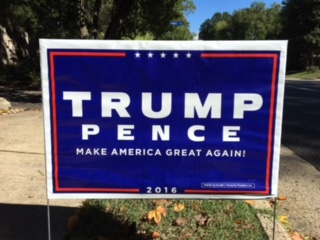 lA local lawmaker thinks Republican Donald Trump's victory Nov. 8 was due largely to Democrats abandoning their populist roots, something he thinks the party can reclaim with some work.
Austin state Rep. La Shawn Ford said he supported Hillary Clinton but didn't think her victory was a slam dunk as some other Democrats.
The former First Lady lost in a shocking outcome that befuddled most political pundits and party members. Though she's leading the popular vote, Trump won the 270 electoral votes required to be president.
As of Tuesday, Clinton's lead in the popular vote continued a steady climb by just over 1.7 million votes. Overall, Clinton has roughly 63.7 million votes to Trump's 62 million.
Ford, who was elected to a fifth term in the Illinois House and ran opposed, insists Clinton and the Democrats failed to connect with voters.
"[Voters] did not hear a real strategy to change their lives," he said. "People are discouraged and tired of hearing 'have hope.' They want opportunity; hope is all worn out.
"We felt that we could focus on all boats will rise with the tide, but everyone don't have a boat to rise with," Ford added. "And we thought we could stay focused on how bad Donald Trump's campaign style was, so much that people would say, 'Oh, you're absolutely right.'"
Trump's message, meanwhile, resonated with a majority of Americans who came out to vote, Ford said. A little more than 50 percent of eligible voters nationwide cast ballots in this month's election.
"Donald Trump got the electoral vote because he went into each state, and he connected with his voters, people that ordinarily wouldn't vote but he brought them out," Ford said. "We as Democrats have more voters than the Republicans could ever have if we speak to the truth about helping people."
Vermont U.S. Sen. Bernie Sanders, who battled Clinton in the Democratic primary, had the right message, Ford said. Sanders narrowly lost to Clinton, winning roughly 13 million votes to Clinton's 16 million.
Sanders "talked about raising the minimum wage [and] free tuition for community colleges. He talked about criminal justice reform to reduce the prison population. He talked about universal child care. Those are the values Democrats stand for, and we failed to deliver that message," said Ford, who supported Sanders in the primary.
But Ford said the country will be OK under Trump as long as Democrats in Congress and the county as a whole hold him accountable.
A similar sentiment was echoed by state Sen. Don Harmon, who wrote a Facebook message the day after the election expressing his own shock of the outcome but also some optimism for the future.
"I join President Obama in saying of President-elect Trump we are now all rooting for his success in uniting and leading the country," Harmon wrote, adding: "It will be a difficult task, but it is a duty we share to work together to unite our country while always being vigilant and willing to raise our voices in protest when leaders seek to divide us."
Upon consoling his young daughter distraught over the outcome, Harmon wrote, "It's OK to grieve the loss of what might have been, I told her, but do not despair. Our country is resilient. Our Constitution is specifically designed to absorb such shocks to our system. The republic will survive and flourish. But we cannot afford to ignore the shock."
The Oak Park senator agreed with Ford that Democrats need to start listening to those American's protesting a country they feel is "leaving them behind and ignoring their needs."
Ford offers some suggestions for Democrats to re-connect with voters. The party, he insists, needs to recruit young people to run for public office, adding: "We got to get black people on the ticket so we can have a more diverse ticket, so people can feel energized in voting for someone who represents their best interest."
Ford said congressional Democrats can also take a page from the Republicans in keeping a check on Trump.
"The Republicans have already written the playbook. They kept President Obama in check for all those eight years on certain issues," Ford said. "The Democrats need to follow the Republicans' playbook especially when his policies and ideas will take the country back to times that weren't good for Americans."
The Democratic Party, Ford added, also needs candidates who share a similar life experience with average voters, Americans who this time around voted against the "establishment."
"When you have real genuine people on those tickets who can go out and connect with people, that's going to get more people to come out and vote," Ford said.
AustinTalks reached out to state Sen. Kimberly Lightford and state Rep. Camille Lilly for comment but neither responded.