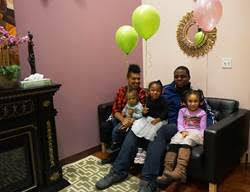 The Birth Center at PCC will begin hosting "The Birth Series," a free community event for patients and professionals on Friday, Nov. 18.
The event, which will be held from 2 to 4 p.m. at 6201 Roosevelt Road in Berwyn, will provide information on birth options and discuss special topics relating to pregnancy. Attendees will have the opportunity to tour the birth center and meet with PCC providers.
Last month, the birth center celebrated its second year of operation with a birthday party for birth center patients. Guests received PCC T-shirts for their babies, could take a family portrait and enjoyed refreshments.
So far, more than 120 babies have been delivered at the center since it opened in 2014.
The first free-standing birth center in Illinois, it is a home-like facility separate from the hospital where low-risk women can give birth with minimal medical intervention. Certified nurse-midwives, who specialize in low-risk pregnancy and out-of-hospital birth, provide care for patients throughout pregnancy.
At the Oct. 27th event, patients had the opportunity to reconnect with their midwives.
"When I see the delight and joy on the faces of the family after a baby is born, I think 'por eso' (translated 'for this'). This is why I am so glad that we do what we do as a birth center team", said Mary Sommers, director of maternal child health programs and birth center clinical operations.
For more information, call (708) 317-3035 or email birthcenter@pccwellness.org.