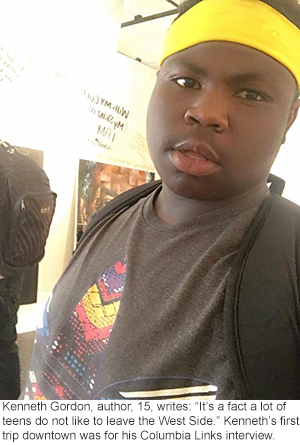 Editor's note: We're pleased to be able to share this story written by West Side teen Kenneth Gordon.
My first day Downtown was amazing. My mother drove me in her car from the West Side. We were looking around at some places like Soldier Field, Lake Michigan and the signs along the way.
I was so excited because I was experiencing new things and learning new things that are so close to me that I had never seen in my life.
My mother dropped me off. I was Downtown for my interview with the Columbia College's Links program. I was kind of nervous because it was my first time Downtown, and this was my first job interview.
I was thinking about things I wanted to say, but I was interrupted by the beautiful things I saw. I couldn't focus. It was so much fun, but at the same time I was scared because it was my first time doing things at the same time.
I was thinking: "Who are all of these people I am seeing? And what are all of these places I am looking at now?"
People are nice, and people will help you when you ask about anything. On my second trip Downtown, I took the Green Line train. I was confused on how to get to Columbia College, so I asked a white man to help me.
"It's your first time being downtown?" I said, "Yes [meaning taking the train downtown for the first time and by myself]."
He walked me to the college at Wabash and Congress.
Nashon Peace, 18, a senior at Al Raby High School, is another West Sider who has never been Downtown.
"It's a fact because most teens feel like they shouldn't leave and they are scared to leave the West Side," he said. "I don't think it's being a traveling problem. I feel like it's the violence teens are accustomed to, and they don't want to see bigger and better things. They don't want to see themselves learn and don't want to see themselves explore things in life."
Howard Sandifer, founder of West Chicago Community Music Center on the West Side, said: "For many of the kids on the West Side, like many of the kids on the South Side, travel is limited to their respective neighborhoods. Other than attending school and church, which most times are in their communities, and due to the danger of crossing gang boundaries and fear of racial attacks, it is safer to stay in areas where they feel safe.''
Zennan Owens, football coach at Al Raby High School, believes it is a myth that West Siders don't travel.
"They assume urban youth don't get out of their neighborhood to see more of the city," he said.
Christian Godfrey, 17, a junior at Al Raby High School, said: "It gives them an idea that it's life and bigger things going on than in the 'hood. They need to get out and see how good things could be if they make the right choices.''
I feel that kids need to explore the world. And see that there are different places where you can have fun. And different places where you can learn.
I learned how tall the buildings are Downtown, and I learned how to travel. Also, I see lots of people jogging. If you want to go to the movies, there are plenty of movie theaters.
When I saw Downtown, I liked how it looked. What I mean by that is I like how things are put together and how things are close by.
And I also liked how some things have been here for more than 100 years and how Lake Michigan looks and how it looks the same for all these years. And I also like how close we are to the lake and when the wind blows you can hear the water splashing.
The difference between Downtown and the West Side is that people are mean on the West Side. For instance, one Sunday there were five fights and two shootings on the West Side.
The homeless are treated better Downtown. People on the West Side will see a homeless man asking for change and ignore him or lie and say, "I don't have it." But Downtown they will give the man money or food.
People on the West Side should try to find different friends from all across the city, not just on the West Side. I've learned how to speak more and how to ask more questions.
I met a lot of different people, white and Hispanic. And I learned about different cultures [on our Columbia Links tours]. I learned that "We are more alike, my friends, than we are unalike," as the late poet Maya Angelou said in her poem "Human Family."
Kenneth, a student at Al Raby High School, wrote this commentary as a participant in Columbia Links, a journalism skills and leadership program for Chicago teens and teachers. The deadline to apply for the fall/winter 2016 Special Reporting and Commentary Academy is 5 p.m. Sept. 30th. Learn more here.