The embattled Independent Police Review Authority was again the center of criticism last week at a public hearing hosted by West Side aldermen at Westinghouse High School.
IPRA's days of reviewing misconduct allegations against Chicago police officers by citizens are numbered as Mayor Rahm Emanuel makes plans to abolish the agency. What will replace IPRA remains uncertain. Officials received yet more community feedback at Tuesday's hearing.
Much of the 80-plus audience demanded a review agency featuring citizens, and one that's transparent.
"We have to create an agency that works for us," said Rhonda Walton, a member of Community Renewal Society, a Chicago faith-based organization supporting a civilian-led agency.
Walton, the mother of a 22-year-old former college football player, said she fears for her son when police are around.
"I have a pit in my stomach when my son tells me the police are behind him, because I don't know what may happen," she said.
And when police commit crimes, Walton said, they should go to jail just like a civilian would.
"If we commit a crime, we go to jail," she said to applause. "We don't get to go home and sit with pay. We lose our pensions, we lose our jobs."
Venus Fortner, the mother of a 17-year-old, said her son should not have to fear the police.
"My son is literally afraid to walk the streets he grew up on," she said. "I pay too much (in) taxes for my son to walk the streets and be afraid of the police. It's about disrespect. I'm tired of paying the salary to those who don't take their job seriously."
City money that's set aside for police misconduct settlements should be invested in the community, another parent said. The next police contract negotiated between the city and the police union must also hold officers accountable for misconduct, said one speaker.
Co-chaired by Ald. Emma Mitts (37th) and Ald. Jason Erivn (28th), the 90-minute hearing inside Westinghouse's auditorium was at times heated.
Some audience members criticized Chicago alderman for not being tough enough on the mayor or bad police officers. Emanuel called for this latest round of public hearings after facing public criticism for not having enough community input before finalizing the new agency.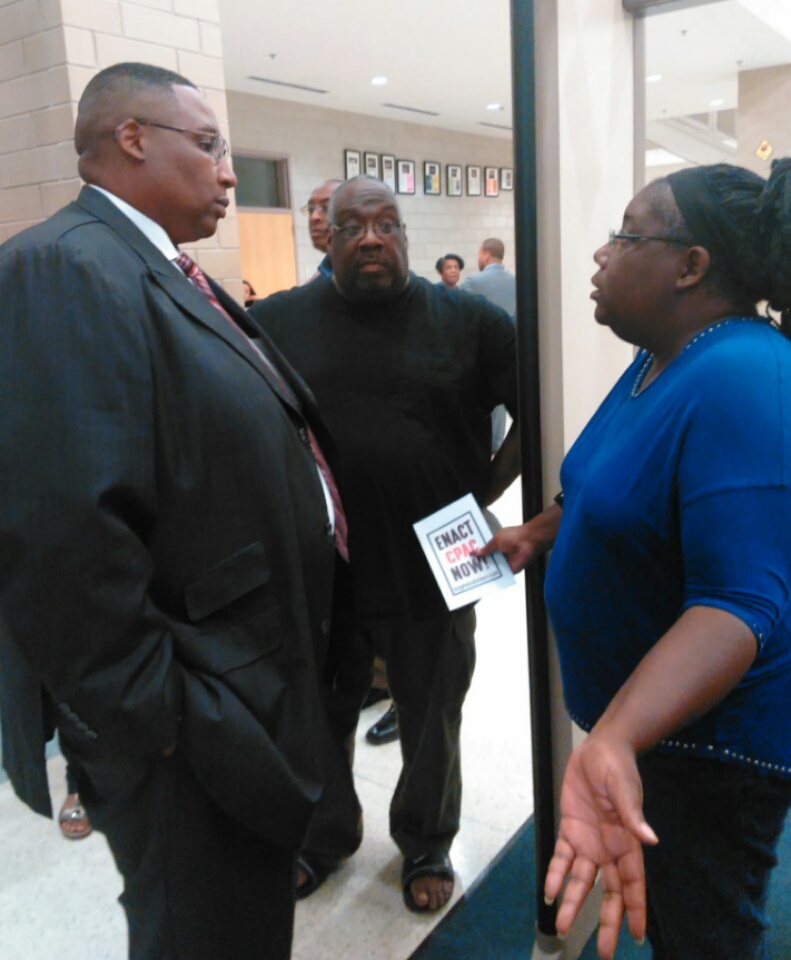 28th Ward Ald. Jason Ervin spoke with Venus Fortner after last week's hearing.
IPRA began in 2007, replacing the police department's Office of Professional Standards. OPS, which began in 1974, was itself criticized for going soft on police. IPRA's creation was largely seen by many in the community as a name-change only from the former agency with no real change.
After Tuesday's hearing, Ervin said the citizen makeup of the new agency, which he supports, is the key to how effective it will be. And the simmering tension in the community is because people don't trust police, and that has to be restored, Ervin said.
Mitts added that people in the community are angry and feel disrespected.
"You heard that in there, about the disrespect. I understood where they were coming from, and I can agree with some of it. But what I want to do is make sure our voice gets heard," Mitts said.