When we looked up to the sky Saturday there was not a cloud to be seen. The sun was shining brightly, and the weather could not have been better.
The Columbus Park Refectory flowers were in full bloom. The gospel sound of DJ Minister Jodi Bady filled the air, and the sea of yellow Austin Power 5k T-shirts made it look like the sun was here on earth.
If you did not know, you would have thought that, just for these few hours, all was right with our community and with the world.
Gone was the thought of violence. There were no chants of, "stop the violence." The chant was, "I will live and not die!"
This group of community stakeholders were truly vested in the power of life.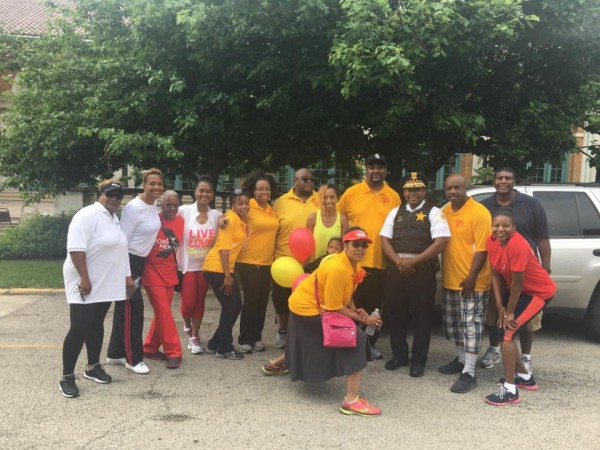 The first speaker to welcome everyone was 29th Ward Ald. and Committeeman Chris Taliaferro, who thanked everyone for coming out and pledged his full support for this fall's Austin POWER 5k walk/run.
Then Cook County Commissioner Richard Boykin was asked if he would come and give the audience a pep talk, and boy, did he!
Boykin was a mix of a football coach before the big game, a boxing trainer in the corner of a heavyweight contender and a Baptist preacher on Sunday morning. He said the power of life is in our tongue and that we should speak life over ourselves and our community.
It was also a pleasure to see Judge Marianne Jackson dancing as she made her way to the stage.
Now you would have thought it could not have gotten any better until we watched CAPS Sgt. Powell make his way to the stage dancing to "Aint No Stopping Us Now." Last year at this time, Powell had a medical ailment that limited his participation, but there was no sign of limitations Saturday.
If this year's Pre-Austin POWER 5K kick-off was any indication of what's to come, we are in for a great Austin POWER 5K in September.
This year we have included the POWER of life jump rope challenge where we are challenging people to jump 77 times for Chicago's 77 communities. We are also planning events such as the POWER of Stepping with state Rep. Camille Lilly.
This year's 5k Walk/ Run will take place Sept. 24, stepping off at 8 a.m. in the 5900 block of Chicago Avenue. The route will take participants down Chicago Avenue through the 37th Ward, then back to where we started on Chicago Avenue in the Soul City Corridor.
Soon after we end the race, the sounds of gospel will fill the air with the 2nd annual Cook County Gospel Competition host by Commissioner Boykin.
If you are interested in learning more, volunteering or registering for the race, please call (773) 626-4497 or visit us on Facebook here.