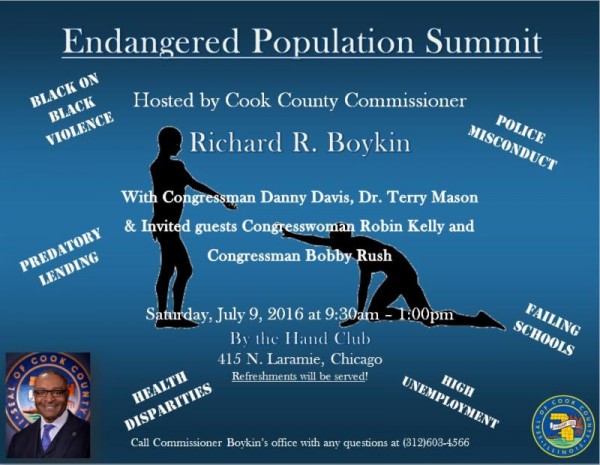 With Chicago recording its 300th homicide a few weeks back over Father's Day weekend, Cook County Commissioner Richard Boykin is sounding the alarm on thesecurity risks associated with the complete breakdown in public safety in many of Chicago's poorest communities.
"If current trends continue, it is only a matter of time before the homegrown terrorist threat that culminated in the Orlando massacre visits us here in Chicago. Gun violence, like all forms of terrorism, is born at the intersection of hate and hopelessness," Boykin said in a recent Facebook post.
"Fifty years of economic disinvestment and failure of state government to provide basic services via a budget have caused a complete social breakdown in parts of Chicago and Cook County. Social breakdowns create the conditions for individuals to become radicalized.
"We are courting disaster. The spike in gun violence in our city is, at root, a cry for help, for jobs, and for opportunity. Hope in these communities is scarce to nonexistent," Boykin said.
"The combination of bad policy at the state level, poor law enforcement at the city level, and a total absence of an overall economic strategy, is literally killing our citizens," the first-term commissioner said.
"Gov. Rick Scott of Florida has declared a state of emergency in Orange County as a result of the violence that afflicted Orlando last week. Gov. Rauner must follow his lead and declare a state of emergency in Cook County due to the overwhelming number of people shot here daily.
"We must also invest in parents, families, communities and our collective security, and we have no time to waste."
He's asking residents to gather 10 a.m. Saturday, July 9 for an emergency summit at By the Hand Club, 415 N. Laramie Ave.