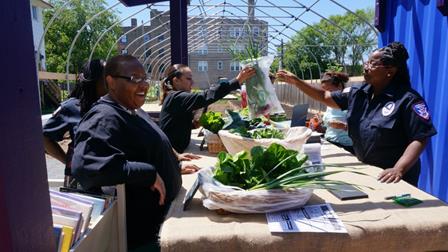 PCC Community Wellness Center's community farm invites 14- to 18-year-old students who attend high school or live in Chicago's Austin neighborhood to participate in a contest to redesign the farm's reusable tote bag.
The student with the winning design will receive a $700 scholarship. The second- and third-place winners will each receive a $350 scholarship.
All entries – which are due Monday – must include the name "PCC Austin Farm," and designs should focus on imagery of things grown on the farm such as flowers, herbs and vegetables.
Students should consider including community or neighborhood elements, such as the Green Line, street signs or other Austin neighborhood elements.
Computer-aided drawings will be accepted. However, the pictures used must belong to the student, not any other source.
Entries must be on unlined, white paper and may use any medium such as: oil, acrylic, watercolor, tempera, gouache, ink, pastel, crayon or colored pencil.
Artwork drawn using No. 2 lead pencils as the primary medium will not be accepted. All entries should be 9" (width) by 11" (height), and must be mounted on card stock or cardboard with adhesive spray, rubber cement or tape.
All participants must submit their entries by 4 p.m. Monday, April 25 to: PCC Austin Family Health Center, Attn: Lucy Flores, 5425 W. Lake St., Chicago, IL 60644.
Winners will be notified May 30, and the winning designs will be revealed to the public 5 p.m. June 7 at the PCC Austin Farm Stand kickoff.
For more information contact Flores at 773-413-1240 or Lflores@pccwellness.org.