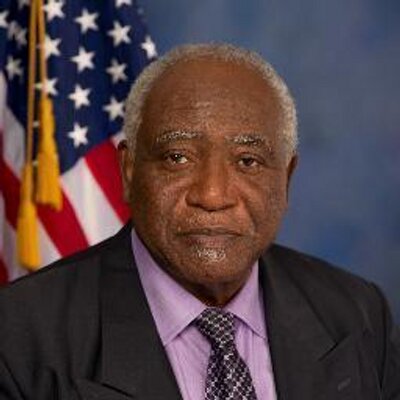 Poised to begin his 11th term in Congress after vanquishing his latest primary opponent, U.S. Rep. Danny Davis doesn't appear close to retiring.
A win in the November general election, which is all but guaranteed given his track record, will mark 20 years in the U.S. House of Representatives for the 74-year-old Davis.
The congressman – who beat Iraq War veteran and journalist Thomas Day 82 percent to 18 percent – insists that retirement is not in his plans.
"When you say retire, retire to do what?" he said in a recent interview in his trademark baritone voice, sitting behind his desk at his West Side district office surrounded by mountains of papers and books.
With walls covered in plaques, pictures and awards, Davis' small storefront office holds plenty of memories from his nearly 40 years in public service.
His 7th Congressional District office at 2746 W. Madison receives a steady stream of calls and visitors. The office has a few businesses nearby, along with some noticeable boarded-up buildings and vacant lots.
The West Side has been home to Davis, a native of Parkdale, Arkansas, for just over a half century. He served as alderman of the 29th Ward – his first elected office – from 1979 until his election in 1990 to the Cook County Board of Commissioners.
But Davis said he has no plans to ride off quietly in the sunset, especially when there's still so much work to do in the district.
"I remember my father," Davis said while spinning his answer off into a story – another of his trademarks.
"He lived to be 92 years old, and we had a birthday party for him. And we were asking him, 'Daddy, what do you want?' And he said, 'It ain't nothing I want. Ain't nothing nobody can buy me or plan for me.' And then he said he wanted to thank us for the way we had taken care of him," Davis said.
"I'm kind of like where he was the. There isn't anything in particular I want to do. My future is so intertwined with the future of America, and the future of low- and moderate-income African American folk. I would like to leave with the idea that the community where I lived and worked did fairly well."
Entering this year's campaign, Davis had a potential formidable challenger in Amara Enyia, head of the Austin Chamber of Commerce. Enyia, who ran for mayor of Chicago last year before dropping out, decided not to challenge Davis.
It was a decision made after having a conversation with the congressman about the future of the district, she said. The two ended up working together in launching Enyia's youth leadership and mentoring initiative she kicked off in November.
"There were a lot of issues we were aligned on," Enyia said. "He expressed openness to a lot of the ideas on a number of policy issues we talked about."
Davis has been virtually unbeatable in his two decades of Congress. He succeeded the popular and legendary Cardiss Collins, who retired in 1995 after 24 years. Davis challenged Collins twice in 1984 and 1986, losing both times.
Davis bested five other candidates to replace Collins, winning 83 percent of the vote. He ran for mayor himself in 1991 but lost to eventual winner Richard M. Daley.
Davis moved to Chicago in 1961. After working as a Chicago teacher, he went on to become a community organizer and activist, working in community health care on the West Side.
The congressman said he's still in good health, though recent back troubles has him using a walking stick these days.
And Davis remains an active power player in local politics, endorsing and campaigning with candidates. He endorsed Dorothy Brown for Cook County Circuit Court clerk. Brown won March 15 despite controversies surrounding her campaign, including ethics questions involving her and her husband.
Davis proudly touts his progressive politics but also his willingness to compromise to get things done. That, he stressed, is not going to stop as long as he's in office.
"I don't always get what I want, but that's the nature of politics," Davis said. "You can have a little bit of something or all of nothing."