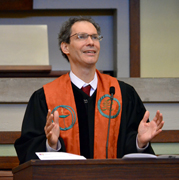 By Rev. Alan Taylor
I'm inspired by what has transpired among the Community of Congregations these past two years. We have prioritized cultivating relationships with people of faith on Chicago's West Side.

At our recent annual meeting, Rev. Cy Fields, senior pastor of New Landmark Missionary Baptist Church in East Garfield Park, expressed appreciation for our mutual interest in building bridges between the Community of Congregations and The Leaders Network of Chicago's West Side.
Rev. Ira Acree, pastor of Greater St. John Bible Church in Austin, invited us to participate in the immediately critical project to transport water to Flint, Michigan, and flag this humanitarian crisis.
Rev. Marshall Hatch Sr., pastor of New Mount Pilgrim Missionary Baptist Church, described the acute differences between police interactions on either side of Austin Boulevard and the need for reform in Chicago that respects the dignity of all people.
I love their call to see us together as "West Siders." We are neighbors after all. While we may want to ignore the many social challenges to our east, there is tremendous love, wisdom, and hope among the people, especially people of faith.
These pastors are just three of the many thoughtful, dedicated human beings with whom we can cultivate relationships.
I am embarrassed that I served here at Unity Temple for eight years before cultivating relationships beyond Austin Boulevard. There's a tremendous cultural pull to turn away from our neighbors to the east and focus on what is familiar.
Four and a half years ago, I and members of my congregation at Unity Temple began breaking through this invisible but very real emotional barrier. We've come to know many good people, some of whom have very different life experience — all of whom share similar life commitments.
When we cultivate honest relationships, we are better together. We can identify what common interests we have and how we can all grow together as we work toward common ends.
To read the rest of Taylor's commentary, which was published last week by our partners at the Oak Park Wednesday Journal, click here.