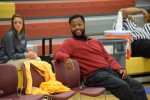 When coach Edward Douglas led his team into the gym for Christ the King's last game in its Thanksgiving tournament, a random, elderly female fan of an opposing team rushed over.
"You're my favorite coach, but don't tell our coach I said that," she said.
Douglas, 45, smiled — something he rarely does when in coaching mode — and continued to walk into the gym where he sat with his team to watch the game being played. He used the down time as a teachable moment for his players, asking them about plays they could run against the man defense they were witnessing.
Since Douglas arrived at Christ the King five years ago, he has led the girl's basketball team to three Chicago Prep League championships and to its first sectional championship game last season.
The Army veteran is stern and has what he calls a "zero-tolerance-for-nonsense" approach aligned with the discipline he developed in the service. Coaching isn't solely about winning games or X's and O's for the West Side Chicago native, it's about teaching life lessons that go beyond his players' years in high school.
"I don't want to be remembered as the man who took them down state, it's not all about that," said Douglas, a former two-sport athlete at Westinghouse College Prep, known for producing NBA greats Mark Aguirre and Eddie Johnson.
"It's about putting in these young people respect, where they respect themselves and they respect others."
Before arriving at Christ the King, Douglas coached basketball at Lexington Elementary in Maywood. It was there where he also had the opportunity to coach his daughter, who is now a sophomore at Western Illinois University. He also coached in an amateur league, which is where he met some of the current Lady Gladiators.
"He taught me a lot and to never give up on myself or lose my head when I'm in the game," said senior Nyema Burns, who Douglas coached in AAU. "He's hard on us, but it's for a good reason. It's not to hurt us, it's to motivate us to do better."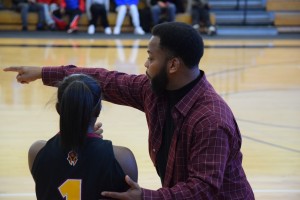 Douglas was a parent before he was a coach. He's a father of two, a deacon at his church and a recording artist who sings with his brother's choir, Travis Douglas and Determined. After working 13 years in a steel mill, Douglas now drives a Pace bus.
While his militant approach and high expectations can be difficult to handle at times, Douglas is looked at as a second father by some of his players. It's a role he said he embraces and uses as another way to help his players evolve as young ladies.
"I see him as another father and a motivator," junior guard Moniquewa Knighten said. "He pushes me to be a leader. He's a good man."
Douglas' love for basketball was inspired by his uncles, who he said "didn't take it easy" on him when they played pickup games. He also paid close attention to his well-known high school coaches, Roy Condotti and Chris Head, and how they approached the profession with a serious demeanor and fervent approach.
Douglas brings a passionate presence to the Christ the King sideline with his constant shouts of directions and affirmations while rarely taking a seat. Though he may be loud, it's all to motivate his players, and he doesn't plan on changing his style or going anywhere anytime soon.
"Coaching has always been a part of me, and I just don't know what I'd do without it, honestly," Douglas said.
The team's next two home games are Jan. 5 (varsity plays Beacon Academy at 5 p.m.) and Jan. 7 (junior varsity plays Cristo Rey at 5:30 and varsity at 7 p.m.)