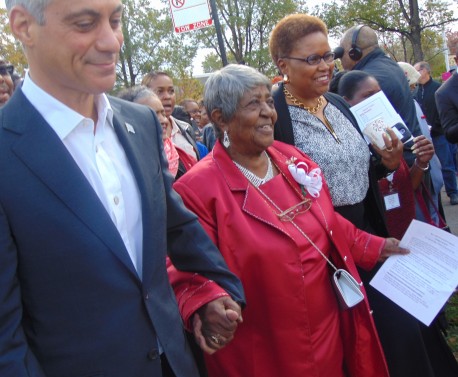 Lillian Drummond is rarely at a loss for words.
The Austin activist at the center of so many community battles for justice was the center of attention last week, receiving an honorary street sign named after her.
More than a hundred people – friends, family and even a few former adversaries – came out for Drummond. The corner of  Congress Parkway and Leamington Avenue is now know as Lillian Drummond Parkway. Her Congress Parkway home is just a few houses down from her street.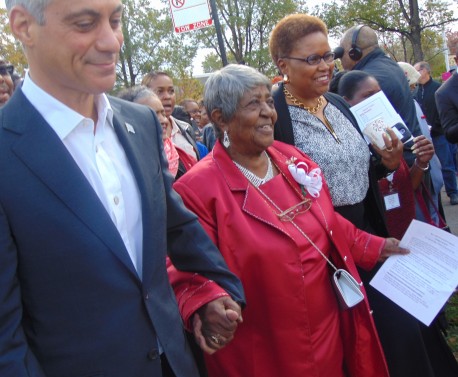 Mayor Rahm Emanuel was among the attendees, greeting Drummond at her front door and escorting her to the ceremony held at the corner. For Drummond, who turned 94 just a few weeks ago, there's no such thing as being speechless.
"I'm here to thank and sincerely appreciate Mayor Emanuel over there, the little short mayor," Drummond said.
Even Emanuel chuckled at that line.
During his remarks, the mayor said Chicago is a better city because of Drummond.
"Lillian, your name may go up on this street sign, this street may be renamed. But it is your spirit that lives in this neighborhood, not just your name that's on a street," Emanuel said.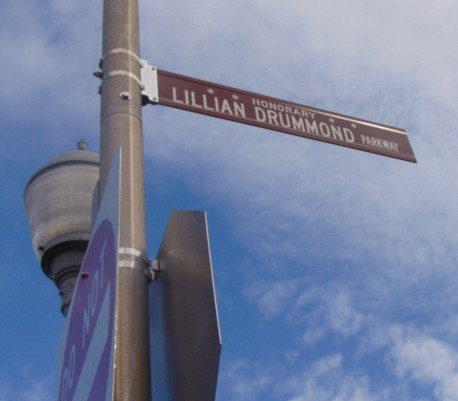 A longtime member of South Austin Coalition Community Council (SACCC), Drummond has advocated for residents on many issues. She's most known for her work on utility issues, helping residents with their heating and lighting bills from Peoples Gas and ComEd. Both companies had representatives there Thursday.
Always outspoken and boisterous, Drummond is never shy about telling such powerful companies how they ought to be treating the people, said Bob Vondrasek, another longtime SACCC leader who's worked with Drummond for years.
"She's a great negotiator," he said. "They're all here. They honor her because she doesn't bullshit. She's like 94 and still going like crazy. She's become the all-star for all kinds of things but especially energy assistance. She's able to work out deals for people."
George Bailey of the Austin Green Team got a shout out from Drummond during her speech.
"Is George here?" she asked.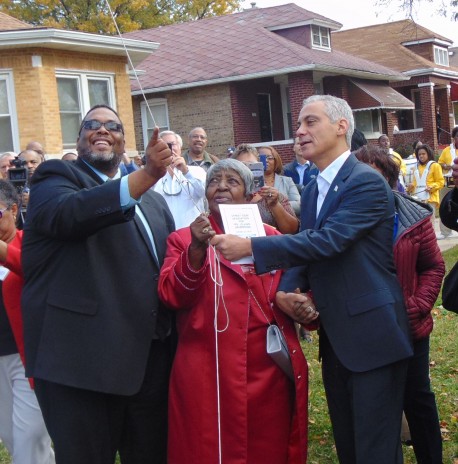 Someone in the crowd said no, and Drummond snapped back, "Why not?"
Drummond and everyone laughed. Bailey was there and said he wanted to make sure his friend knew that. Bailey also praised Drummond's work for the community.
"That's how she became an advocate, because she was never afraid to speak her mind. And she always had the support behind her," Bailey said, noting that Drummond's not afraid to use colorful language to get her point across or put people, who needed it, in check.
While displaying her trademark feistiness, Drummond also showed her warmth in acknowledging those she's worked with for so many years.
"I could not have done as much as I've done without those people. I believe that's why God has let me live to be 94 years old," Drummond said.
Ald. Chris Taliaferro read a Chicago City Council proclamation in honor of Drummond and later joined Drummond and Emanuel in unveiling her sign. Thursday morning's ceremony continued inside the Austin Senior Satellite Center, 5071 W. Congress Parkway.
The South Austin Neighborhood Association, which formed this past summer, organized the street naming for Drummond.
Terry Redmond, one of the group's founders, said they worked with Taliaferro on the honor. Drummond and the group traveled to Springfield over the summer to advocate for seniors.
After the ceremony, Drummond was flanked by friends and supporters who gave her hugs, kisses and took plenty of selfies. The woman of honor said it felt real good to get so much love and appreciation.
"It makes me want to keep on living."