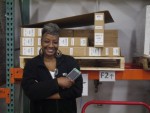 After working 14 year in the parking industry, enduring the schedule and location changes, challenging personalities and unrealistic supervisor expectations, Nancy was let go.
She had received certificates of recognition and customer endorsements, but those didn't matter when she was laid off.
After a two years of unemployment, Nancy heard about Greater West Town Project's shipping and receiving program. The prospect of learning specific, technical skills attracted her, so that she could get away from unskilled jobs.
"I didn't know anything like this existed.  A free program – are you serious?"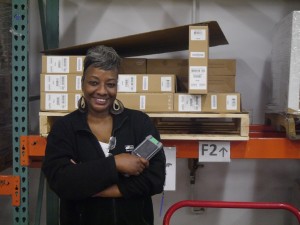 Nancy entered training in summer 2015.  She found it rigorous; the group dynamic was inspirational.  The car fare and other supportive services became more important once her unemployment ran out. Her family support was a key ingredient.
Throughout the 12 weeks, Nancy set an example for her fellow students who lacked work maturity.
"Nancy demonstrated the qualities that employers look for in mature workers," said basic skills instructor Linda Thomas.  "She took her studies very seriously and raised the bar for her classmates."
By the end of training, Nancy was class speaker for graduation and had a long list of accomplishments, including raising her reading score over six grade levels while  also also increasing her math score.
"I never drove a forklift before; now I'm certified to drive two different forklifts. Also, I was scared of computers and remember previously struggling so hard with them. I didn't want to do anything that had to do with computers. But I'm not scared now."
Nancy's determination has helped her land a job with the country's largest Internet-based retailer.  Once she starts the job, this grandmother of two would like to help out her grandkids and their parents financially, as well as adding some new clothes to her wardrobe. Saving to buy a car might be next on the list.
Interested in updating your skills? Manufacturing and logistics training are both available. The next wood products manufacturing class starts in early October. Call GWTP at (312) 563-9570.