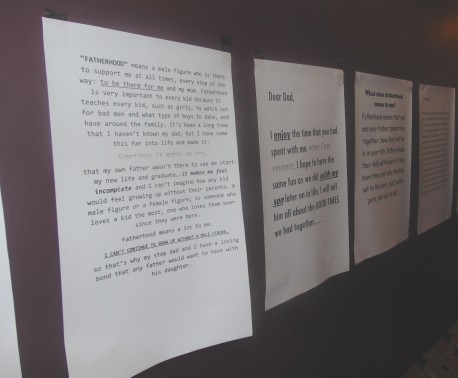 Staring at the poster on the wall with the words she wrote to her father, Ariona Hairston shed more than a few tears.
Though is was done as part of a summer enrichment program sponsored by the Westside Branch of the NAACP, the 14-year-old felt it was something she had to write.
"I mean, this was a way to get everything out," said Ariona, a Chicago Bulls College Prep freshman.
"Basically, he was never there, and I wish he knew how much that hurt. And now that I've grown up and getting older, I don't need him. It was so much holding in, so I was like, 'You know what, I'm gonna be serious about it and I'm gonna write how I really really feel.'"
Ariona was among the Chicago-area students participating in the Westside NAACP's "freshman in transition" program this summer.
One of their assignments, to write letters to their fathers, was inspired by Dear Father: Breaking the Cycle of Pain by author and spoken word artist J. Ivy, whose book they read.
Many of the students had their work on display July 25 at the Westside NAACP's community day event at ICE Theaters in North Lawndale. The day included free movies for youth, food and games.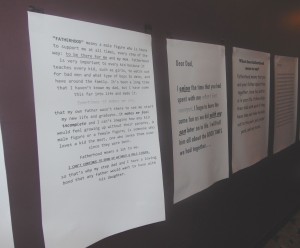 Enlarged posters with the student's letters aligned the walls inside ICE, 3300 W. Roosevelt Road.
Ivy, an invited speaker at the event, met with Ariona and other students about their letters, and also signed copies of his book.
Published in January, Dear Father was inspired by a poem Ivy wrote to his father, who was absent during much of his childhood after his parents separated and later divorced. The South Side native said he was touched by the students' letters and could relate.
"It's been an incredible journey, coming here and seeing the effect and seeing the young people write letters to their fathers," Ivy said. "That's one of the things we want to use the book to do, is inspire people to write letters to their fathers."
Ivy shared his story with the youth and their families, and also performed two poems, including the one he wrote to his father, James Ivy Richards, better known as former WVON DJ Jim Richards.
Ivy recalled listening to his dad on the radio growing up. After many years apart, the two reconnected in 1999. It was his mother who sparked the reunion and got Ivy to forgive his father.
"She said he was a good man. If there was anyone who could say something negative about him, it was her. But she didn't."
Ivy said he had to learn to forgive his father. But a little over a year after reconnecting, Richards died. his son recalled having to start the healing process all over again.
"The poem and the book is all based around the power of forgiveness. It was forgiveness that allowed me to let go and say, 'OK, you got me here. My gifts and abilities, a lot of my traits, all that comes from you; my ambitions and even my entertaining and speaking. That same drive,'" Ivy said.
Dear Father is Ivy's second published book. HERE I AM, the same title of his second studio album, was released in 2012. Ivy has appeared in film and on television, including HBO's Def Poetry Jam. He's also a Grammy Award-winning artist for his work on Kanye West's debut album College Dropout (2004).
Ivy's book was chosen for the program because of its message, said Renel Perry, a Westside NAACP vice president. More than 100 youth from partnering neighborhood schools participated in the organization's programs this summer, Perry said.
The students' letters, she added, were very touching.
After writing hers, Ariona said she felt better.
"It still kind of hurts a little, but I'm doing fine. I'll be fine."