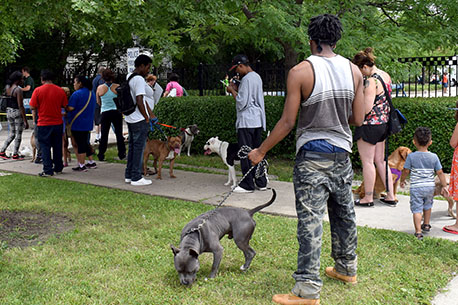 The dog days of summer are here, and the pooches were on full display last weekend during an afternoon of vaccinations, micro-chipping and spay/neutering.
The event was made possible through a partnership between the Animal Care League, The Bryan and Amanda Bickell Foundation, Chicago Animal Care and Control, Lost Dogs Illinois, 29th Ward Ald. Chris Taliaferro and the 15th District CAPS program.
Throughout the day, Austin residents were welcome to bring their dogs to 5660 W. Madison Ave. for services essential for a pet's health and safety. Pit bulls were provided the services for; non-pit-bull breeds were charged $10.
Over the past several years, there has been a high volume of strays coming into Chicago animal control, said Kira Robson, executive director of the Animal Care League.

And many stray dogs find their way across the Austin border into Oak Park, where the Animal Care League is located.
"Our biggest goal is to introduce ourselves to the community, get a bunch of dogs vaccinated — and hopefully micro-chipped — and then also let people know we're right across the border if you want to do spay/neuter or get your vaccines again next year," Robson said.
"Oak Park and Austin work together on a lot of human services, but there's not really anything set up for pet services … and we hope if things go well today (July 11), we'll do several of these out in the Austin community."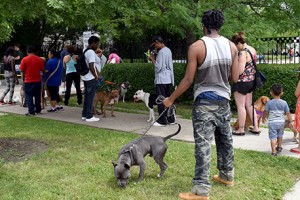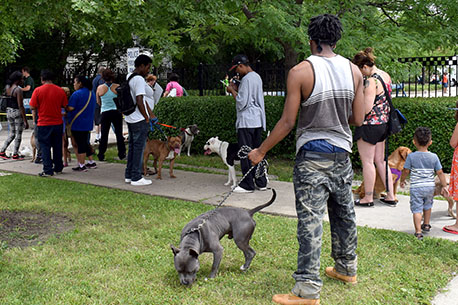 Aside from the necessary vaccinations, pet owners could get their furry family members micro-chipped, and ID tags were also being offered in the unfortunate event that a dog go missing.
"As much as you think you know what you'd do if your dog got lost, it happens and you're in a panic and that's all gone," said Lost Dog Illinois volunteer Jackie Untiedt.
"Some people say, 'Why are you helping the dogs instead of the people?'" Untiedt said. "But sometimes it's all the people have. They have no family; they have nothing but their animals."
Lost Dog Illinois helps lost pet owners get reconnected with their animals by providing Internet-based resources through social networking sites such as Facebook and Craig's List.
Chicago Police Officer J. Munoz said events like this help raise awareness of programs available for pets, which means less time spent by police dealing with pet issues and more time dealing with other issues on the West Side.
"It provides people the incentive to get their dogs vaccinated, neutered, spayed or just register their dogs with the city," Munoz said. "It lets other people in our community know there are people who care about their pets."
And with so many families owning pets — particularly low-income families who may not otherwise be able to get the services for their animal s— Ald.  Chris Taliaferro said he was "very happy to see such a good turnout."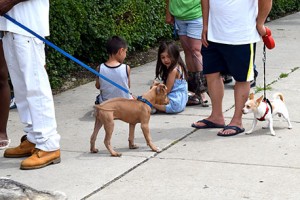 "We have a large dog ownership within the entire 29th Ward," said Taliaferro, whose family owns a rescue dog named Asiago.
"Not everyone's able to probably afford the vaccinations. And I think this is a good opportunity to come out and find out where I can get the free vaccinations, where I can get the dog implanted with the chip in case he gets lost."
Austin resident Tracy Oliphant — who saw the event advertised on a flyer and brought her two dogs, Shadow and Lady — agrees.
"This is very, very, very important," Elephant said. "A lot of people can't afford the vaccinations, and a lot of people aren't aware of how the dogs need to get vaccinated, so this is great."