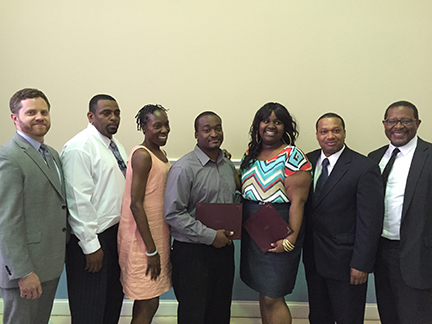 Another 14 people graduated earlier this month from Bethel New Life's Advanced Manufacturing Training program.
This is the second graduation since Bethel partnered with World Business Chicago's 1000 Jobs for Chicagoland Manufacturing campaign and The Technology & Manufacturing Association.
The June 5th graduation marks the sixth cohort for the program, bringing the total number of graduates to 73 since it started in 2013.
Advanced manufacturing is a high-tech industry that requires training on computer numerical control (CNC) machines. To date, 100 percent of AMT graduates have received their CNC national credentials.
All participants accepted into AMT receive free training and certification, valued at $6,000. Bethel's AMT program welcomes all adults 18 or older.
AMT participants with children are eligible for Family College, which combines AMT, academic skills training for children and family growth experiences.
A new AMT cohort starts today, June 15th. Orientation sessions for AMT are held every Wednesday.
"Motivated AMT graduates get hired, and are often promoted and given pay increases within a year," Jumaani Bates, Bethel New Life workforce development specialist and 1000 Jobs account executive, said in a press release.