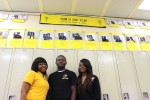 Michele Clark Magnet High School's graduating class of 2015 has a lot to be proud of.
The entire senior class of 98 students achieved a 100 percent college acceptance rate, and they have been awarded over $5.5 million in scholarships.
That's more than the class of 2014, which won about $4.5 million in scholarships.
The school emphasizes scholarships, because students know college is costly, said Carmen Mahon, post-secondary counselor at Michele Clark, 5101 W. Harrison St.
So throughout the school year, she said students have been encouraged to attend weekly help sessions like "Wealthy Wednesdays," where students meet in computer labs to complete scholarship applications and have counselors look over their essays.
"It's not hard work, it's busy work," Mahon said, referring to the tedious job of filling out applications.
But it needs to be done, she said.
For the majority of African-American students attending Michele Clark who come from low- and middle-class families, this process is necessary to help avoid mounds of debt later in life, Mahon said.
"At the end of the day, each and every one of them knows what struggle looks like and feels like," Mahon said. "But you've got to know that you've got to do the work. You've got to want more."
Three of the school's top seniors have proven they want more: Diamond Dortch, Ashley Moncrief and Ralph Boyd have been accepted to all the colleges they've applied to. Each applied to at least 20 colleges.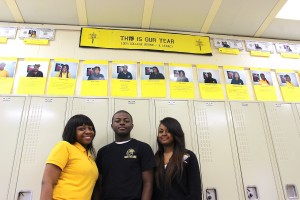 The top three graduating seniors at Michele Clark Magnet High School were awarded nearly $2 million in scholarships. From left to right: Ashley Moncrief, Ralph Boyd and Diamond Dortch (Photo/Cara Ball)
All three have gone well beyond the school's requirement of applying to a minimum of 10 colleges, writing at least three scholarship essays and completing the FAFSA (Free Application For Federal Student Aid).
All of these requirements must be met before seniors can participate in senior activities such as prom, Mahon said.
Dortch, 18, will major in education or speech pathology at Jackson State University in Mississippi on a full scholarship that covers tuition and housing expenses.
Boyd, 18, has also committed to attending Jackson State, where he will major in history on a scholarship.
And Moncrief, 18, a first-generation college student, will attend Tuskegee University in Alabama on a full-ride scholarship to pursue a degree in pharmaceutical studies.
She has won the most in scholarship money: $845,546. This is a combination of scholarships offered by specific colleges and universities, as well as independent scholarships.
"My No. 1 goal when I started senior year was that I didn't want my mother to have to pay for college," Moncrief said. "So if I had to apply for 10 or 20 scholarships … or if I had to retake the ACTs 1,000 times, that was going to be my main thing, to make sure that my mother didn't have to come out of her pocket."
Boyd's advice to students preparing for college is simple: apply for as many scholarships as possible. Because having good scores is only half the battle.
"I think they should really apply to scholarships because like I tell people, I had the score to get in, I just didn't have the money to get there," Boyd said. "That's the big difference."
He has the money now; he's been awarded $354,608 in scholarships.
With the right scores, and now the money, Boyd said he's glad about making his family proud and dispelling the stereotype that black males don't graduate from high school and attend college.
Dortch, the class valedictorian with a 4.7 grade point average, said many people helped her get to this point.
"It's important to have that adult support system," said Dortch, who racked up $749,796 in scholarships.
She credits her mother and two older brothers, both of whom attend college, as well as counselor Mahon for helping her get through a tough but rewarding final year of high school.
"Never give up," she advises for soon-to-be seniors.
"It was very hard for me to balance all of my classes on top of post-secondary requirements that I had to do," Dortch said. "But just keep doing what (you're) doing, and don't let anything defer (you) from paying attention to college."
After attending prom Friday, May 29, the trio looks forward to spending time with family and friends before heading off to college in the fall.