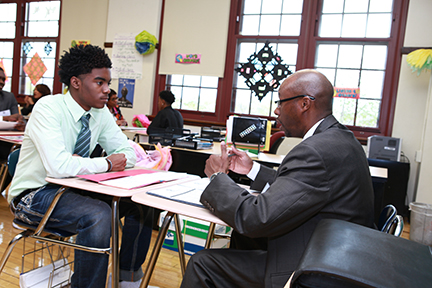 From near and far, about 150 professionals from over 50 industries shared their career stories Thursday with about 500 high school students at the third annual career day at the Austin High School Campus.
Junior Achievement, the largest and fastest-growing nonprofit economic education organization in the world, partnered with the three schools on the Austin campus to provide volunteer speakers in celebration of its 75th anniversary.
For the past two years, the Manufacturing Connect program at Austin Polytech Academy has hosted the career day event only for Austin Polytech students. This year, students from the other two schools on the Austin campus – Austin Business and Entrepreneurship Academy and VOISE Academy – participated.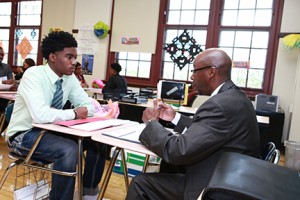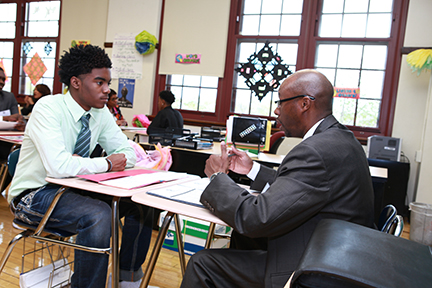 Students took part in panel discussions and mock interviews in 30 classrooms with professionals from multiple careers.
Entrepreneur and Shark Tank co-host Daymond John donated his first book to all 500 students; over 1,400 breakfast pastries were donated by Clover Hill Bakery and Corner Bakery, while 20 cases of bottled water from Walgreens Corp. And professional clothing was donated by teachers and staff on the Austin campus.
Ali Muhammad, principal of Austin Polytech, has witnessed the value of career day each year.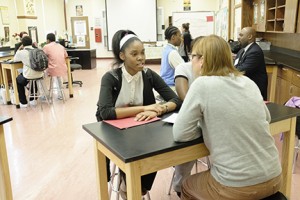 "On Career Day, our students benefit from interacting with professionals who have been where they are," Muhammad said. "In addition to the mentoring and learning to network, student's self-esteem reaches new heights when they are dressed for success. People will be amazed at the long-term effects career day has on our youth."
"Career day is not a normal day of high school. It's the first step to a journey of success," said Jervon Adams, a junior at Austin Polytech.
"I think this day shows students that they can be more than a statistic and that being a part of Career Day is a good thing," said Elisia Tucker, a senior at VOISE Academy.