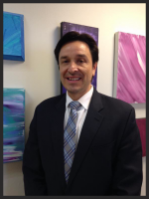 Adam M. Alonso has been named executive director of BUILD Inc., a community-based organization in Chicago with offices in Austin.
BUILD's mission is to engage at-risk youth in school and on the street to help them realize their educational and career potential.
"Adam is a committed and compassionate community service professional who brings with him a vast depth and breadth of experience working with at-risk populations in Chicago," Bud Schwarzbach, chairman of BUILD's board of directors, said in a statement.
Alonso replaces Rosalind Blasingame-Buford, who stepped down in January to become president of LINK Unlimited Scholars. She had worked at BUILD since 2002.
"Over the last 45 years, BUILD has worked to reduce violence in the city by helping thousands and thousands of Chicago youth turn their lives around and go from being at -risk to at -hope. Adam will build on our years of accomplishments and help thousands more Chicago youth live safer and more fulfilling lives,"  Schwarzbach said.
While in graduate school, Alonso launched Corazon Community Services, a non-profit agency in Cicero focused on youth prevention, intervention, health and leadership development. Ten years later, the agency had grown an organization of four volunteers and a budget of $5,000 to a staff of 40 and a budget of $2 million.
During his undergrad years, Alonso founded The Giving Tree, a student organization that addresses the needs of Chicago's homeless. He earned a master's degree in social work from Loyola University Chicago in 2002 and a bachelor's degree in Latin American Studies from the University of Chicago in 1993.
Alonso comes to BUILD from the Illinois Department of Human Services, where he served as the director of the Illinois Welcoming Center for Immigrants and Refugees. He's also served as director of community engagement for the United Way of Metropolitan Chicago and launched the agency's first Live United Neighborhood Network in Brighton Park.
He's also worked at Casa Central and Illinois Action for Children.