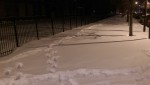 Austin resident Dwayne Truss wonders why Chicago Pubic Schools took several days to shovel the sidewalks surrounding Emmet, 5500 W. Madison St., which closed in 2013.
"It's a shame that the city of Chicago is threatening to issue tickets to home owners for not shoveling snow from their sidewalks yet after closing Emmet and forcing students to walk further to school, CPS does not have the decency to shovel the sidewalks around Emmet so that children do not have to walk in the streets on their way to school," Truss said Thursday night.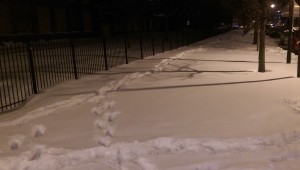 Hours later the sidwalks outside Emmet had been shoveled. (Truss took this photo Thursday night outside the closed school.)
He criticized CPS for allowing the sidewalks to be unpassable days after Chicago recorded its fifth-highest snow total.
The Chicago Board of Education closed 50 schools, mostly on the West and South sides, in June 2013. The four Austin schools – Robert Emmet Elementary, George Leland Elementary, Francis Scott Key Elementary and Louis Armstrong Math & Science Elementary – remain unused, despite residents' pleas the properties be repurposed.
Last summer, a CPS official told AustinTalks the closed buildings were being maintained and the district was working with aldermen on what to do with the properties.
–