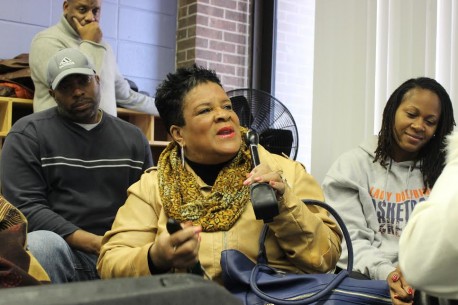 A documentary filmmaker held a pre-screening earlier this month of a film that focuses on students and teachers at Spencer Elementary Technology Academy in Austin.
Filmmaker Derek Grace, who teaches video production at Spencer, features students and teachers from the school in his film "College Week."
About 20 community members, some with film background and some without, watched the 58-minute rough cut Dec. 6.
The film follows students in grades pre-K through 8th grade as they participate in the 6th annual College Week events, which occur every spring.
Each classroom represents a college or university, learning what it can about its admissions requirements and tuition costs, all of which are presented to judges from the community.
Although all grades participate in College Week, only the 8th grade classes compete for the title of college week champions. The three 8th grade classes are judged on classroom presentation, as well as knowledge of their chosen university or college.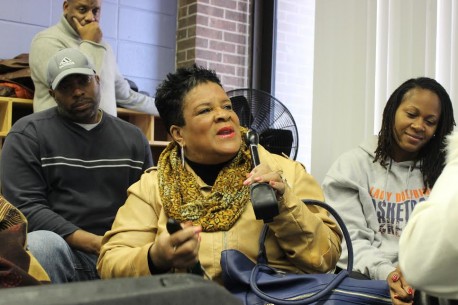 Linda J. Bond (center), an 8th grade teacher at Spencer Technology Academy who attended the recent screening with former 8th grade teacher Janene Maclin (right), shared her thoughts about the film. (Photo by Cara Ball)
Janene Maclin, one of the three 8th grade teachers featured in the film, attended the recent screening.
"I am extremely grateful to be a part of the project," Maclin said.
Maclin's 8th grade class represented the University of Louisville in Kentucky.
And although Maclin no longer works at Spencer – the filming happened in 2012 – she said it's particularly powerful to see the impact college week has had on the children.
"It's one thing to be in it, it's another thing to actually see it and to know that it works," Maclin said.
Spencer Academy's College Week – as depicted in the film – emphasizes the need for children living in a struggling neighborhood to strive for excellence by furthering their education.
After watching the rough cut, audience members provided feedback, with one audience member saying the film made her cry because the story touched her heart on many levels.
Pemon Rami, director of educational services and public programs at the DuSable Museum of African American History, said his criticism of the film is limited.
The pacing of the film could be slowed, he said, and adding scenes showing how teachers and administration work together to pull off College Week would help other schools implement similar projects.
Other than that, Rami said the film was enjoyable and serves a great purpose.
"I think that it's an incredible opportunity for people to view the positive aspects of what happens when teachers are inspired and they share with young people in a way that encourages them to move toward a positive future," Rami said.
Grace, who is a member of Reel Black Filmmakers, a group of Chicago-based minority filmmakers, said after working on the film the past two years, the feedback shows he's on track with the storyline.
Grace said he'll do more interviews to provide insight on how teachers and administration prepare for College Week. He also plans to make the suggested technical tweaks before wrapping up post-production of the film.
Hearing how the film evoked emotion in some viewers is what meant the most.
"When a couple of ladies said they cried when they saw it, that means a lot to a person who's producing a piece like this," Grace said. "That means that I'm touching somebody."
Grace, who also produced and directed the film "On The Front Line: Taking Back Our Streets," said he expects his latest film to be completed in about three months.
Then he plans plans to share his work with schools like Spencer Academy in hopes of inspiring similar programs.
"I believe all schools should have some version of a College Week," Grace said. "Not the whole five days, but maybe a half day, maybe two hours, maybe a day."
"The main audience for me is public schools and underserved communities," he said. "So I would like for principals, administrators and teachers to see this project."