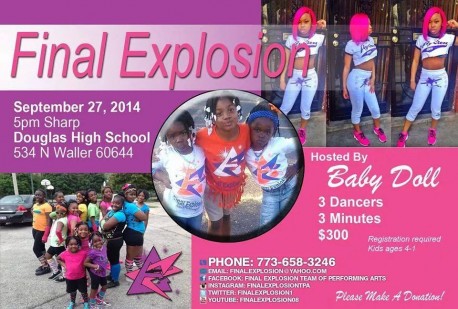 Final Explosion Team of Performing Arts hosted a free dance program for 50 Austin residents ages 4 to 16 this past summer – and it continues its work this fall.
This year, the dance program, founded by Latricia Walker, has focused its attention on the Austin community because of the high crime rate and because there aren't enough programs in the area where youth can express themselves through performing arts.
"They had an awesome experience," Walker said.
"Unfortunately, we didn't have a reliable practice space, so all of our practices were held outside at Emmett Elementary at Central and Madison. Because of the enthusiasm of the kids, we looked past any negativity and focused on preparing ourselves for the upcoming events."
Final Explosion participated in the OES Parade, Prevention Partnership's campaign for safe driving practices, Congressman Danny K. Davis' parade, The Taste of Austin, Pastors' Coalition for AIDS Awareness talent show and several block club parties.
"We are for students, run by students! We plan rehearsals, arrange fundraisers, make costumes, choreograph, as well as go to school and work. We represent the West Side of Chicago in a proud and constructive way," Walker said.
This season, the group hopes to minimize costs for the dancers by adding sponsors. This is an opportunity for you to advertise your business, and also support the mission and goals of the 6-year-old Final Explosion Team of Performing Arts.
For more information, call (773) 658-3246 or email final.explosion@yahoo.com.