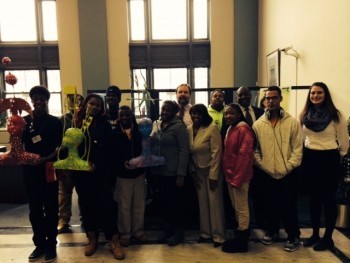 Several Orr Academy High School students visited ABC Bank, 5645 W. Lake St., Tuesday to present and display their art.
The nine students have been creating their own art and learning about money at the same time. In school, they've learned about several business and personal finance concepts and skills.
The art is being sold to benefit a number of social ventures at Orr High School as part of its SOBU artist project. SOBU stands for Social Business and was developed by Nobel Peace Prize winner Muhammad Yunus of Grameen Bank.
Three pieces of art work – each priced at $50 – can be viewed over the next two weeks during bank hours (8:30 a.m. to 5 p.m. Monday through Thursday; until 6 p.m. on Fridays; and from 8:30 a.m. to 1 p.m. Saturday.)
Interested buyers may contact Orr teacher Jeanne Walker at jswalker@cps.edu about these and many other works that aren't on display at the bank.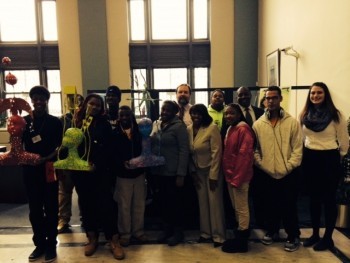 The artwork was created as part of the SOBU Art CLub, which is supported by the Chicago Department of Cultural Affairs and Special Events, as well as by an Oppenheimer Family Foundation Teacher Incentive Grant. The sculpture was funded by an AUSL Curriculum Enhancement grant.
The art club meets during lunch and after school one day a week. The group is also involved with Mikva Issues to Action.
During Tuesday's visit, some of the students also opened youth savings accounts as part of the Young Illinois Saves program.
More than 3,000 students statewide have set savings goals and committed to saving more than $1.8 million through the basic financial literacy program. An aim of the program is to help students save for college.
For more information about signing up your school for the program, contact the Economic Awareness Council at ilsaves@econcouncil.org or 630-740-6831.