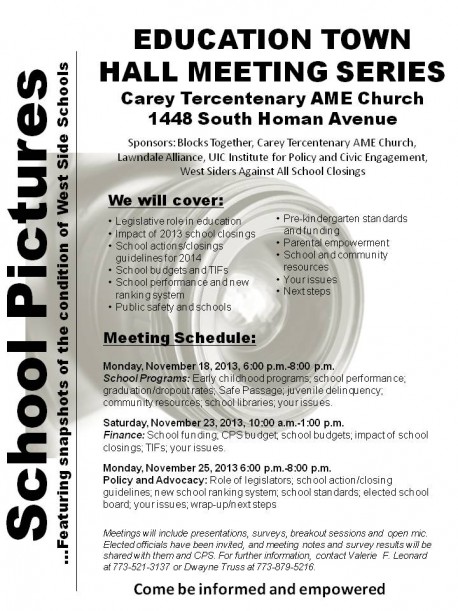 West siders filled pews at a Humboldt Park church last week for nearly two hours to discuss problems in their area.
U.S. Rep. Danny K. Davis (7th) held the political meeting at Tabernacle of Faith Baptist Church, 531 N. Kedzie Ave. Former Ald. Ed Smith moderated as hands flew up one by one, mostly to discuss education and violence.
Brandon Johnson, an organizer for Chicago Teachers Union, said what several community members have been saying for a while now – that the mayor and many in the community don't see eye to eye.
"We demand and need an elected representative school board," Johnson said.
He said families continue to feel the aftermath of the mass school closings that took place in June. Children are struggling to get acclimated in their new environments, he said, and some still find it difficult to safely walk to school.
The community needs to push for change, he said.
If the community wants an elected school board, it must get support from state lawmakers, said Tonya Johnson, who is running for 9th District state representative. She told the group that more people must register to vote so "their voices can be heard."
Town hall meetings about the conditions of West Side schools will be held later this month, said Valerie Leonard, a community development consultant and organizer for Lawndale Alliance. Three meetings are scheduled.
Among several topics, Leonard said people will learn about the schools' academic performance, special programs and what role legislators play.
The topic of education volleyed back and forth as part of a discussion about street violence and drug dealing.
Some residents said there needs to be stronger male figures for "the pant saggers," a term some residents used to describe young men who are slacking off in school and committing crime.
Minister Chris Burton, who helps run MB Life Changing Ministries, told the group he recently launched a program called The Man Up Project. He said he works with young men in prisons and asked for their support, hoping to get enough money to house the men once they're released.
"I created a program because I came from where they are," Burton said, who recently wrote a memoir, "The Unlucky Bastard."
Though many people share their ideas and promote their events, most people don't follow through with plans for change, residents and Rep. Davis said.
"The thing that is missing is a sense of permanency," Rep. Davis said. "The black community is not rising up to the challenge."
He said he's had community meetings for over 30 years now but hardly sees the level of community organizing he used to see in the 1960s.
He added that the black community in general has "accomplished a lot" over the years. But if people want change, they need to organize, fight and get the youth involved.
The education Town Hall meetings will be at Carey Tercentenary AME Church, 1448 S. Homan Ave. The first meeting will be Monday, Nov. 18 from 6 to 8 p.m; the second will be Saturday, Nov. 23 from 10 a.m. to 1 p.m.; and the third meeting will be Monday Nov. 25 from 6 to 8 p.m.