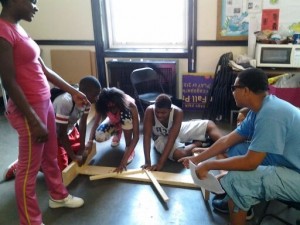 Nearly 200 teenagers from 14 of Chicago Park District Summer Camps – including Austin – worked several weeks to create a push kart representing their park and community as part of the X-Stream summer fun.
On Aug. 8th, the X-Stream race teams gathered at Garfield Park to display their karts and race for awards and prizes. Teens who worked at Austin Town Hall participated in last week's event.
Before a crowd of nearly 300 the final event included judging, the race, a live DJ, a barbeque, prizes and raffles for the teens.
The teens participating in the program were 13 to 15. The goal of the program was to encourage the campers to combine, creativity engineering, recycling, team work, and health in an engaging way and provide the teens with a fun summer camp experience.
Each camp received materials to make a basic frame of a push kart. The group was asked to collect recyclable materials and come up with a plan to add whatever is needed to make their push kart the best.