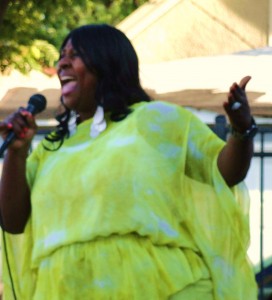 Austin residents, vendors and local talent came together last week for Westside Health Authority's community stage, which showcased local musical, dancing and theatrical talent.
In the past, the Westside Health Authority showed videos of concert performances and gave away free food and health information to attendees, but this year the organization wanted to put on a show with live acts, said Julia Flowers, program assistant for WHA.
The overall goal of the event was to connect with the community, Flowers said.
When choosing performers, Flowers said it was open to all types of talent, because people listen to different types of music; but all the acts had to respect the crowd.
"We like talent, [and] it doesn't have to be spiritual," Flowers said. "There's no profanity … It's a family night. It's entertainment."
Vendors and other local groups came out for the event to reach out to the community and spread awareness on issues such as sexual health and breast cancer.
Richard Wallace, prevention coordinator for the Austin Congressional Black Caucus, along with other Austin-CBC members passed out pamphlets about sexually transmitted infection and disease as well as condoms.
"They had a variety of age groups and demographics in one location, so that's good," Wallace said. The community stage "showcased everything the community really has. There's a lot of love and a lot of peace midst all the storms that are going on."
Nine performers danced, sang or acted July 24th before an audience of approximately 70 adults and children in a colorful play lot. The performers ranged from younger dancers and singers to more experienced actors and poets.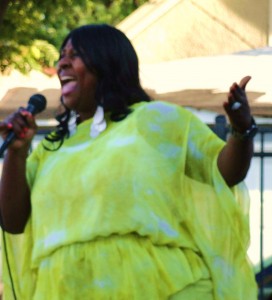 Melon Honeydew Greene, who's performed on Broadway in Chicago, soulfully sang songs by Jill Scott and Chaka Khan with her partner Shaquane "LP" Davenport, because she saw previous performers give back to the community.
"It makes awareness of positive things within the community," Greene said. "You don't have to be afraid to gather together … They're doing something for free to give everybody a chance to mix and mingle."
Flowers said she organized the event so a variety of local acts could come together and display their talent.
"This is a place where these young parents … can bring their kids out and laugh, talk and have something to eat," Flowers said. "We're trying to make a connection with the community and have them greet each other, know each other and share that."