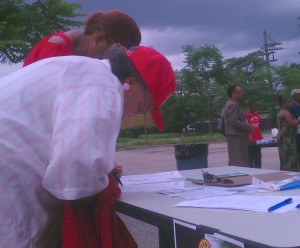 The Prevention Partnership partnered recently with the Chicago Police Department's 15th District to distribute anti-drunk driving information.
Ald. Deborah Graham stressed the importance of increasing awareness about drunk driving at the 100 Churches event held June 26th.
"We need to continue to keep people aware because accidents with drunk driving are still occurring," Graham said. "They still occur as they have in the past. It's a serious issue, and we need to stay vigilant."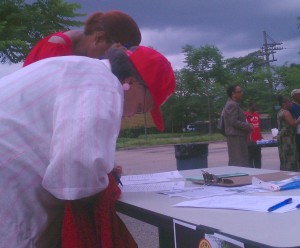 Along with receiving information about drunk driving, attendees filled out surveys detailing their driving habits, said Luther Syas, community outreach specialist for Prevention Partnership.
In addition to working with police and targeting businesses, the organization works to spread the word to 18 to 34 year olds, Syas said.
That's an age group needing special attention.
Drunk-driving fatalities among Hispanics and African-Americans 18 to 34 years old have been rising, according to the Illinois Department of Transportation.
This time of year there needs to be a spotlight on the issue, advocates say.
"We really focus on Memorial Day, Fourth of July and Labor Day," Syas said. "Maybe if we reach 200 people here, we may be able to save 10 or 15 [lives] through this awareness process."
The cost of driving drunk can be very high, said Larry Williams, an insurance agent with State Farm.
He said his clients who've been involved in drunk-driving accidents know firsthand the consequences – which include paying an insurance deductible, possible job loss, not being able to drive, fines and even jail time.
In fact, 92 percent of all drivers arrested for driving under the influence lost their driving privileges, according to a 2013 state report.
On Independence Day, the agency usually sees a dramatic increase in claims due to drunk driving, Williams said.
On a normal day, the insurer may receive one or two claims, but during a holiday such as the Fourth of July, it gets about 10 claims related to drunk- driving accidents, Williams said.
"There's always a spike [in claims], but we just have to gear up for it," Williams said. "The best advice is to think twice. Think about the consequences if you decide to drink and drive."