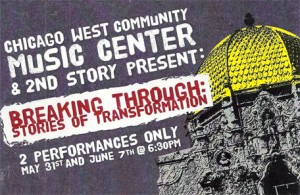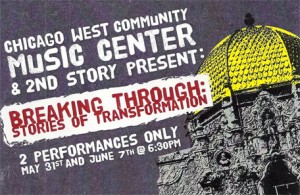 What in your life has transformed you? A group of West Side residents met at the Garfield Park Fieldhouse every Friday for the last several months to tell, write and perform stories from their own lives.
They want to share them with you.
Join them for for an evening of live music and storytelling at Inspiration Kitchens, 3504 W. Lake St. The performance will begin at 6:30 p.m. May 31 and June 7, and is recommended for those 17 and older.
Donations will be accepted. An optional buffet dinner is available for $5 a person.
Storytellers include: Sha Calhoun, Kamaria Moir, Khalif Kemp, Bettina Van Pelt, Renetta Gunn-Stevens and Annette Britton. Music is by Howard Sandifer Productions; the performance is curated and directed by Bobby Biedrzycki.