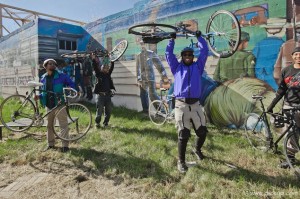 An urban cycling group that started in California six years ago is hosting a bike ride through Austin on Saturday.
Red, Bike and Green is trying to create a sustainable black bike culture, according to the group's website.
And the organization is doing that by hosting bike rides in three cities nationwide: Atlanta, Oakland and Chicago.
"To oversimplify RBG's mission and borrow from the world of advocacy, we are trying to get more black folks on bikes more often. In Chicago, this is no small task," one of the co-founders of the Chicago chapter, Eboni Hawkins, said via e-mail.
Organizers hope the ride through Austin will dispel the neighborhood's reputation for being among the deadliest in the city.
A lot of people only know about what they see on the news and it's important to change that image, said Hawkins.
Between 12 to 25 bikers are expected to tour the parks, and redeveloping commercial and middle-class residential areas of Austin.
Bikers interested in going on Saturday's tour should meet at the Austin Columbus Park Refectory at 10 a.m. to participate in the ride. Bike rentals are available at Greenline Wheels and Dan's Bike Shop. More information is available on the website.