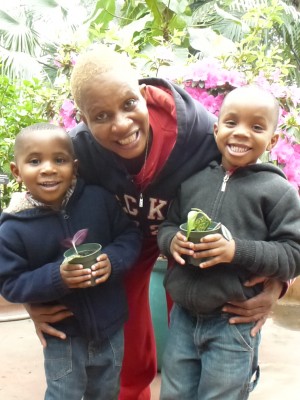 Families tightened their scarves and pulled on their gloves on a recent Saturday as they left the Garfield Park Conservatory, walking toward brick buildings in the blistering cold. People who made their way inside crossed over from Chicago's gray, bitter winter to an indoor tropical forest.
On any given Saturday, 600 to 800 people visit the conservatory, 300 N. Central Park Ave., but on this particular afternoon, well over 1,000 people had passed through the doors.
"It's nice to have an outside when you're stuck inside," said Robin Cline, assistant director of programs with the Garfield Park Conservatory Alliance.
The Garfield Park Conservatory is the largest of three Chicago Park District facilities that preserves and displays exotic plants from around the world. Its eight plant rooms and outdoor space add up to 4.5 acres.
It's also one of 10 institutions in the nation to receive last year's National Medal for Museum and Library Service, which is awarded to educational facilities that "make a difference" in communities.
At no charge, families can take off their coats and walk on winding paths through a warm, large space that looks and feels like a tropical forest. Almost 84 types of long palm tree leaves brush visitors' heads as they walk through the conservatory, while small plants and shrubs fill virtually all the space on the ground.
People look at exotic fruit plants and bright flowers from Brazil, Australia, Madagascar and southern China, just to name a few countries.
About 30 percent of visitors come from surrounding neighborhoods, like Austin or East and West Garfield Park, but the other 70 percent travel from the greater Chicago area, Cline said.
"We come here almost ever year, especially when it's snowing and gray outside," said Namita Checker, an Elgin resident who made the hour drive. "It's just nice for the kids to get to know nature."
But Checker said there's more than just the museum-like walk-through. Her two kids love the children's garden, where they can peer inside a man-made, 6-foot-tall walnut and receive a hands-on tutorial on seed planting.
Children can also become gardeners by digging for worms and bugs in a large vat of dirt—toy worms and bugs, that is.
Scavenger hunts are held each month with a new theme; February's theme is Black History but will last until April. Families get a list of plants to find that depict different significant lessons from a theme, such as "roots" to depict the importance of cultural and familial ties.
Families can also sing to a plant in March, which intertwines music and nature, Cline said. Different songs are sung to different plants, so the two 300-year-old cycad plants get their own tune.
"Kids were still humming the tunes as they left last time," Cline said.
Cline said more families flock to the conservatory in the winter, but she believes there's more to a visit than just escaping the cold.
"I think when you live in an urban environment, you have less of a chance to connect to the natural world," she said. "This is a powerful way to connect with nature, your family and yourself."
Cline noted the conservatory attracts all kinds of visitors, even people who have "never planted a seed in their life." As a child, Cline said she had never visited such a place.
The 106-year-old structure was built in 1907. The chief architect, Jens Jensen, wanted the conservatory to look like a collection of landscapes under one roof, according to the conservatory's website. The building went under a multi-million dollar construction in 1994 to improve the plumbing and heating.
A damaging hail storm in June 2011 broke several parts of the conservatory's glass ceiling, and repairs will continue through this summer, according to the conservatory's web site. All broken glass has been replaced with temporary, bicarbonate plastic, said Cline, and display houses are still open to the public.
Those who frequently visit the conservatory wouldn't mind some more changes.
Joe Fruci, an Evanston resident who has visited about 10 times with his wife and two kids, said he wouldn't mind a larger children's space. He added that he would prefer if park district workers watered plants after the children's garden closed at 4 p.m. so that paths would stay dry and his son could crawl around freely.
But Cline said that the gardens can only be watered when the staff is available, from 7 a.m. to 3:30 p.m. The plants also require a specific watering schedule, which would always conflict with public visiting hours.
Austin resident Cheryl Lucas's son has visited the conservatory with his school, Polaris Charter Academy, but she said he loves coming anytime. She too, said a larger family area might be a nice addition to the conservatory.
Fruci and Lucas's suggestions may mean more families are coming to the conservatory, something Cline said she wants to maintain for upcoming summers.
Outdoor camp fires will make a comeback this summer after being a hit last year, said Cline. She added that she plans to continue having free music events and live goats for children to pet.
The city boasts a large museum campus, but Cline said conservatories have their own unique beauty. She said people occasionally need to wander in a no-cost, natural environment to relax.
"You don't have to know how to use a conservatory," said Cline. "You end up being together as a family and have a chance to talk about nature. We don't have a lot of places of restoration to do that."
This story was published by our partners at the Austin Weekly News as part of the newspaper's annual West Side community guide.