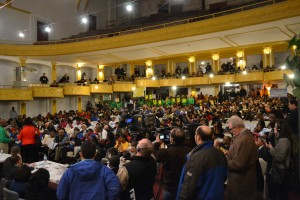 Seven underutilized Austin schools face the possibility of being closed at the end of the academic year, according to the latest list released Wednesday by Chicago Public Schools.
A total of 16 schools in the Austin-North Lawndale Network are on the 129-school list, and hundreds of West Side community members attended a second CPS meeting in the network hours after the list was made public, urging that their school be spared.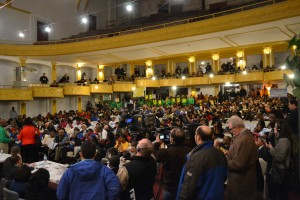 The feisty crowd, carrying signs reading "Stop targeting minority communities," often interrupted CPS officials during Wednesday's meeting, chanting "save our schools" and "no school closings."
And they shouted "no!" when one CPS representative announced that some Chicago elected officials would share remarks before public comment.
Ald. Deborah Graham (29th) was the first lawmaker to speak and assured the audience that she's "on the same page" as them.
"I have five schools that are on the list, and I am fighting for all of my schools," Graham said.
CPS initially released a list of 330 under-enrolled schools across the district – including more than a dozen in Austin — that could be closed but narrowed it down to 129. Most of those schools are on the South and West sides.
The district says it has too many empty seats and needs to shut down some underutilized neighborhood schools to close its looming $1 billion deficit. CPS chief Barbara Byrd-Bennett recently announced high schools and high-performing schools are off the table.
CPS also said Wednesday it will not shut down schools with more than 600 students, schools that recently experienced a school action or are in the process of adding grades, among other criteria.
The district is expected to make final school closing recommendations no later than March 31.
Dwayne Truss, vice-chairman of the Austin Community Action Council, was one of many audience members to refute CPS' budget deficit, and he also questioned its expansion of charter schools.
"Has there been any type of independent analysis done of Chicago Public Schools' budget?" Truss said.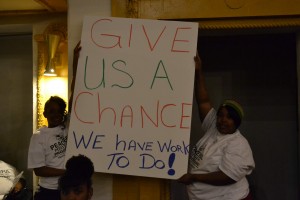 The community meeting, held at the House of Prayer Church of God in Christ, 3535 W. Roosevelt Rd., comes on the heels of a resolution earlier in the day from 30 Chicago aldermen calling for a moratorium on new charter schools opening in 2014. All of Austin's aldermen signed the non-binding resolution.
Members of Parents 4 Teachers also announced earlier this week that they plan to file a complaint with CPS' inspector general alleging conflicts of interest, among other concerns, in the school closure process.
In addition to no school closures, Windy Pearson, spokeswoman for Action Now, said her group also wants a moratorium on the expansion of new charter schools.
Multiple people in the audience cited safety concerns with students traveling to another school if their neighborhood ones close.
Cleveland Gidney-Clark, an eighth-grader at Key, said he feels safe at his school and said he doesn't want that to change.
"It feels like my home," he said.
Another Key eighth-grader, Kenneth Porter, echoed his school is his "safe house."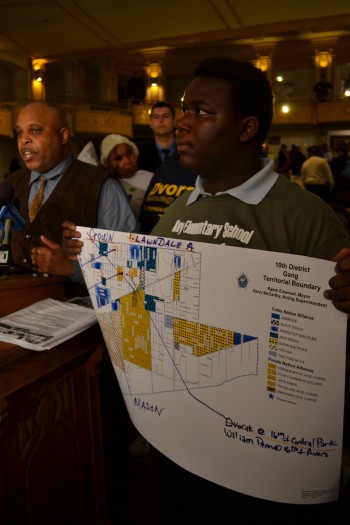 Porter said he walks to school with his 6-year-old brother and he said he's worried they will run into problems with gangs if Key closes and they are forced to travel to another school.
"I don't want to go through that," he said.
Robin Hood, a program manager for CeaseFire in North Lawndale, told the crowd that he recently sat down with epidemiologists to put together a safety plan for West Side schools if just one were to close.
"When I tried to map out a safety plan from all this, I could not find a way where you close one school on the West Side in North Lawndale and you don't have no violence or possible death of kids," Hood said. "It is a public safety problem."
The fate of special needs students was also a key concern at the meeting.
"The reason our schools have a high number of special needs children is because the charter schools don't want to educate those children," Truss said. "They don't want to invest in those programs."
Truss added that CPS is putting special needs children in harm by closing neighborhood schools.
"CPS does not have the capacity to move those children and to make sure that they follow through with their (Individualized Education Program)," he said.
Speaker after speaker also talked about their school's academic success.
Armstrong, for example, has recently moved from 53 percent to 63 percent in students meeting or exceeding standards on the Illinois Standard Achievement Test, Graham said.
And DePriest has moved from 65 percent to 68 percent, she added.
"We want to make sure that you don't disturb the educational growth that our children are experiencing," Graham said.
Truss added that Austin's schools have made the biggest academic gains among Chicago public schools "with little or no support from CPS administration."
All public comments at the meeting were recorded, and CPS said it would take them into account when making final school-closing recommendations.