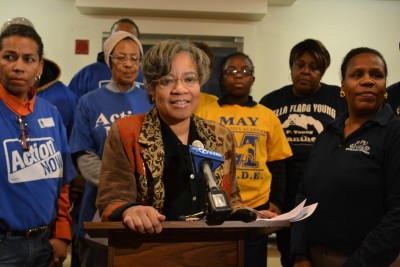 Parents, students and education activists refuted Chicago Public Schools' utilization numbers and called for no school shutdowns Thursday night at Friendship Baptist Church at the first of two CPS Austin-North Lawndale Network community meetings.
"We're fighting for our babies," said Dwayne Truss, board member of the education advocacy group Raise Your Hand, which has offered its own set of numbers on how undercrowded or overcrowded the district's more than 500 schools are.
"We're in this neighborhood. We're in this community, and we want to let the billionaires who are trying to push these policies on our babies know we're not going to have it," said the longtime Austin resident.
One 14-year-old student said he's not having it either. Trevon Graneville said he doesn't want his school, Horatio May Elementary Community Academy, to close.
The eighth grader said he has a younger sister who also attends the school.
If May shuts down, he said, his sister wouldn't have the "wonderful experiences" and positive mentors that he's had at the school. May, 512 S. Lavergne Ave., has 463 students with an ideal capacity of 1020 and is considered underutilized, according to CPS data.
"I want other people below me, I want their minds to keep flowing," he said. "I want them to stay right. I want them to be successful."
CPS says it has too many seats with too little students citywide and is facing a $1 billion deficit by this summer.
About 50 percent of all CPS schools are underutilized and nearly 140 are more than half-empty, according to CPS.
But Valerie Leonard of the Lawndale Alliance questioned CPS' financial priorities.
She said while CPS maintains it has to close underutilized neighborhood schools to right-size the district, it's also working with Uno Charter Schools to help provide more than $35 million to construct new buildings.
And she said she's concerned that the Chicago Board of Education isn't advocating for tax-increment financing, or TIF, reform to help fund public schools.
Chicago's TIF program diverts property tax dollars from schools, parks and other governmental bodies to private developers in an  effort to spur economic growth in blighted areas.
"Most of that TIF money is sitting there uncommitted," Leonard said. "A lot of that money could come back to help close the deficit. So if there's really an urgency on their part to close funds, we feel that their priorities are mixed up."
The purpose of the citywide community meetings, according to CPS, is to hear community members concerns and to take them into account when making final school closing recommendations, which will be announced no later than March 31.
CPS could release a preliminary and narrower list of what schools could face the chopping block at the Austin-North Lawndale Network's next meeting Feb. 13 at Greater Galilee Baptist Church, 1308 S. Independence Blvd.
After the final announcement, there will be two additional meetings in the community and one public hearing for each recommendation before a final board vote, according to CPS.
Michelle Young, a parent at May Community Academy and president of Action Now, said school closures have caused a "shock wave" that extends beyond the classroom and community.
"The social and economic costs outweigh any savings to be gained," she said
She said school closings will result in a disruption to student learning, increased violence and the displacement of teachers, among other problems.
School closures could also mean the elimination of some Local School Councils.
Windy Pearson, an Action Now member, is on Theodore Herzl Elementary School's LSC, but she said she's not sure how long that's going to last.
"CPS does not want individuals sitting on the LSC that won't kiss their butts," she said.
And Pearson also echoed fellow parent Young's concerns about student safety.
Pearson said some students could be forced to attend schools up to 20 blocks from their homes if their current school closes.
"They have to take two to three buses to get to school," she said. "They are moved from one territory…to another gang territory."
It is bad enough, she said, that students can't walk across the street, let alone go 20 blocks from their homes.
Student safety, along with utilization, building quality and the ability to provide affected students with higher performing options, is guiding CPS process when determining school actions, according to CPS.
But Young said the fight is not done.
"If we have to make ourselves a human chain around our school or inside it, we don't care," she said. "Jail is not new to us."