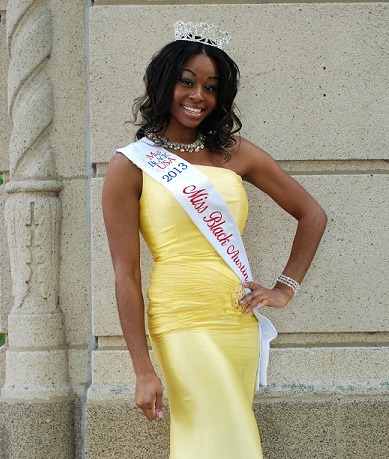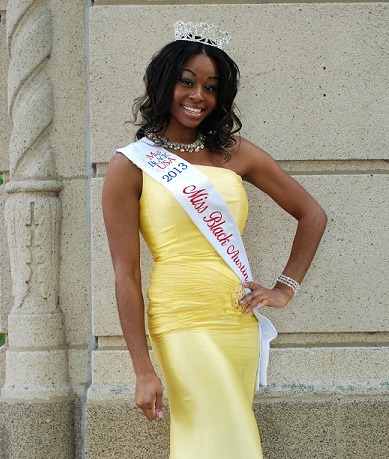 For Shakari White, settling for average isn't enough.
The 24-year-old Austin resident said there's a stigma about West Siders being uneducated that she hopes to change. That's why she's representing Austin in the upcoming Miss Black Illinois 2013 pageant.
White is Miss Black Austin Illinois 2013, and the preliminary state pageant is being held 7 to 9 p.m. Oct. 27 at the Dusable Museum of African American History, 740 E. 56th Place.
Holding this title is important to White because she wants to break down barriers for West Siders by changing expectations. She said some people expect her to be ignorant, and are surprised that she has an education and has traveled internationally.
"I hope to break a lot of barriers because I am the only title-holder in the entire competition from the West Side of Chicago … each and every time I introduce myself and I speak about myself, I enjoy reversing a lot of those stereotypes," White said.
Pageant Director Roshonda Payne said the contestants were asked which community they felt most connected to and only one could represent that area. Besides the emphasis on ethnicity, the competition differs from other pageants in that its main focus is not beauty.
"The difference is we really concentrate more on the intellect, the talent and then just the overall woman," Payne said.
White grew up in Humboldt Park but moved with her family to Austin in 2005, later commuting to Roosevelt High School on the North Side where she graduated.
She said she feels connected to Austin because it's where she started making milestones. In Humboldt Park, she was rebellious at times, she said, but the move was good for her because of the positive examples she saw. She liked participating in youth programs and organizations in Austin.
White said she doesn't see girls challenging themselves enough and wants to be a role model.
"I want to be an example for the girls in my new, old and surrounding neighborhoods. Once they see how one of their own has opened their options, they will feel confidant to do the same," she said.
Even though White said she needs to raise about $650 for the pageant, her goal is to raise $1,300 so she can have enough left over to donate to DIVAS, or Developing Intellectual Visions and Self. As a mentor in the organization, she works with girls from the West Side as they participate in workshops and attend outings.
When the organization first started, White had the opportunity to speak to the girls and share her personal story.
"They were intrigued by her, they loved her story, she was like a positive black role model that they're not used to seeing," said DIVAS member Joy Lambert.
"She goes over and beyond to make sure everybody is happy, everything is OK. She has such a great personality," Lambert said.
"I was eager to jump on board because I grew up with a financial burden that prevented me from doing many things, but it was my courage and curiosity that helped me excel to the levels I have experienced," White said.
Her mother was 21 when she was born, and White said she was strict with her because she did not want her to make mistakes that other girls made. White calls her mother her No. 1 role model because she was always supportive.
White got accepted to Eastern Illinois University where she graduated December 2011 with a bachelor's of science degree in fashion merchandising and a minor in business and communications studies.
Originally, White majored in mass communications, but after helping a beauty pageant contestant at her school, she realized she was much more interested in fashion so she changed her major.
Last year she interned for almost five months in Florence, Italy, at a vintage boutique and obtained college credit at Florence University of the Arts. During her stay, she traveled to France, Germany, Spain and Denmark.
Her career goal is to open her own stylist agency in Chicago.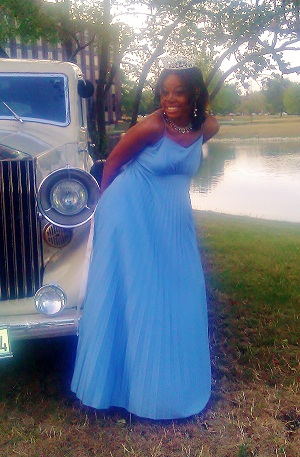 This is White's first time competing in a pageant. She said she chose this one over other pageants because she wanted to be a role model for all girls, but specifically girls who do not have enough representation in the mainstream. She said she likes the idea of sisterhood among African-American women.
"I came across Miss America, I came across Miss USA, but then when I came across Miss Black Illinois, it was a pageant system that I really knew that I can benefit from because I was able to relate to it," she said.
"This entire adventure benefits me as well as the people I want to affect; my purpose in life is being fulfilled."
"I want to see a lot more women making decisions that can help them celebrate their accomplishments. Give them a platform where they can be around other women that celebrate each other, lift each other up in terms of career and spiritual growth and education," she said.
"I feel like we're all crabs in a bucket, we're in that dynamic where we're just pulling each other down just to get on top of each other. I'm at the point where I want us to be a lot more successful as a group as a whole."
If she wins, White will move to nationals to compete in Miss Black USA, receive a $2,500 scholarship, a prize package and paid trip to nationals.
For the preliminary portion of the national competition, White will be judged in five categories: personal interview, personal fitness, talent, evening gown, and question and answer. Personal fitness is only worth 15 percent and so is the evening gown portion, Payne said.
This is Payne's first year directing the local pageant and she said she wanted the girls to represent communities they could really relate to.
"I wanted to open up an opportunity for them to be local queens. Usually, when you have a pageant like this, you go right to the state and then you just compete, but I felt having these community pageants would give the young ladies an opportunity to get in Austin, to get in Hyde Park, and do things with their crown and their sash," Payne said.
Tickets are general admission and cost $15 for ages 17 and under, and $25 or $50 for adults. You can donate a ticket by contacting the pageant.
Photos courtesy of Shakari White