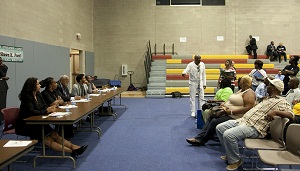 In an effort to curb violence and joblessness among the African-American community in Austin, state Rep. La Shawn K. Ford (D-Chicago) hosted an emergency town hall meeting last week for residents and stakeholders to engage in open dialogue about the need for change.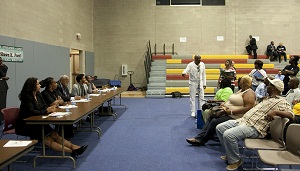 The three-hour event, held Aug. 28 at Christ the King Jesuit College Prep High School, 5088 W. Jackson Blvd., allowed 10 community stakeholders the opportunity to address the concerns of about 100 residents.
Representatives from various community organizations, as well as a few state agencies including the Illinois Department of Public Health and the Illinois Department of Employment Security, acknowledged the concerns and discussed what their organizations can offer.
"We have to build a bridge to move our community much further than it should be," Carl West, CEO of Truth Be Told News Service and co-founder of Next Generation Leadership Council, said in an interview. West sat on the panel during Ford's town hall meeting.
"We don't want to sit around and point a finger, but it doesn't take a brain surgeon to see that our community should not be in the state that it's in.
"You always hope that the people will attend these meetings and will be inspired and transformed mentally. Then you hope that business people and politicians will understand clearer the concerns of the community," he said.
Ford kicked off the meeting with a presentation showing racial disparity in state agency hiring practices. According to Ford's data from March 2012, of the 1,600 employed at the Illinois Department of Central Management Services, only 149 were black. At the same time, more than 85 percent employees at the Illinois Environment Protection Agency were white, and only eight of the Illinois Governor's Office's 79 employees were black.
The unemployment rate for blacks in Illinois is more than 17 percent, compared to 8.2 percent for whites, according to Ford's data.
"The state has failed the black community without a doubt," Ford said.
Lisa Williams, equal employment opportunity and affirmative action ethics officer for the Illinois State Toll Highway Authority, discussed the agency's hiring practices and changes being made to ensure workforce diversity.
"At the tollway, we really are tying to change things," Williams said.
Ford's data showed that of more than 60,000 employees working for the Illinois State Toll Highway Authority in March, more than 44,000 were white.
"We want to make sure the selection process is fair, so we are scrutinizing that entire process to make sure people aren't getting dropped out disproportionally at certain times; we are looking at our job postings to make sure they're not unnecessarily exclusive; we're making sure our written tests are fair, clear and not exclusive; and we're making sure our interview panels are diverse," she said.
Williams also pointed out current job opportunities at the tollway and asked residents to apply.
But unemployment isn't the only concern for West Side residents. Violence – another urgent matter – was also discussed at the town hall.
Ashake Banks, whose 7-year-old daughter remains the youngest fatality in Chicago's recent spike in violence, also attended the meeting. A slideshow was played to honor her daughter, Heaven, and Banks was presented with a gift. Flyers for the Heaven On Earth Movement, a weekly support and discussion group, were distributed.
At least one resident who attended the meeting expressed the need for citizens to also take action.
"This is important because our violence is at its highest, and there's only so much that can be done at the top. It's going to take people on the ground level supporting and doing something about it, and it's important for people to share their ideas and concerns so that we can all work together to make a change," said Antwan McHenry, 35.
A 20-year resident of the Austin and Humboldt Park border and a nine-year teacher for Chicago Public Schools, McHenry said he's attended funerals for three of his former students.
"A lot of talk is done, a lot of people say what needs to be done and what can be done, but I hope some plans are implemented after this meeting," he said. "Actions need to be placed behind the words, because it's OK to be mad and outraged, but if you don't do anything about it, it's just an emotion."
In an interview before the meeting, Ford mentioned legislation he hopes to introduce that would address issues in the African-American community. Tentatively called the "Black Act," the bill includes the establishment of a task force designed to identify and solve specific issues that plague the black community, such as unemployment, poor schools and black-on-black violence.
"The African-American community has issues that must be addressed and called to the front; we have to be made an agenda in politics," he said. "Let's put solutions in writing and get a resolution."