Teachers at Ella Flagg Young Elementary School, 1434 N. Parkside Ave., took to the picket line Tuesday as the Chicago teacher's strike entered its second day.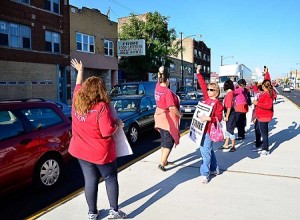 The union failed to reach an agreement on a new contract with the Chicago Board of Education late Sunday, leaving about 350,000 students across the city without schools to attend.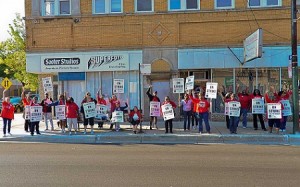 The Chicago Public Schools this week announced the opening of 147 "Children First" sites to provide childcare for families.
School sites located in Austin, Garfield Park and surrounding West Side include:
Crown Elementary, 2128 South St. Louis Ave.
Herzl Elementary, 3711 W. Douglas Blvd.
Mason Elementary, 4217 W. 18th St.
Farragut High School, 2345 W. Christiana Ave.
Gregory Elementary, 3715 W. Polk St.
Hefferan Elementary, 4409 W. Wilcox St.
Tilton Elementary, 223 N. Keeler Ave.
Marshall High School, 3250 W. Adams St.
Spencer Elementary, 214 N. Lavergne Ave.
Brunson Elementary, 932 N. Central Ave.
Nobel Elementary, 4127 S. Hirsch St.
Piccolo Elementary, 1040 N. Keeler Ave.
Sayre Elementary, 1850 N. Newland Ave.
Photos by Dwayne Truss