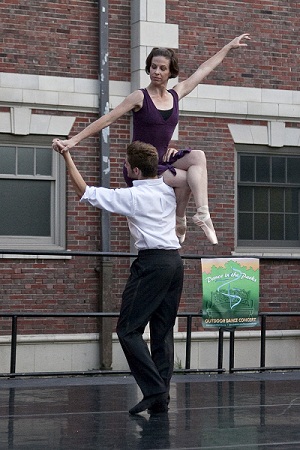 The stage was set at Austin Town Hall last week for pirouettes, pliés and pas de bourrées as Dance in the Parks put on a free performance, complete with music, lights, costumes and choreographed routines, by an esteemed collection of Chicago's professional dancers.
More than 20 Austin residents gathered to watch the 90-minute performance July 24, which opened with a routine from the Austin Town Hall Park Summer day-campers and a performance from Full Effect Entertainment Theatrical, a local Chicago dance company housed at Austin Town Hall since 2007.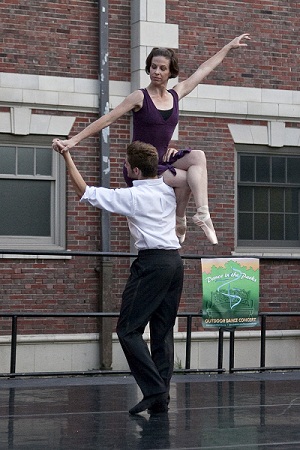 "It's really nice to know that we can give back to the community by showing them arts, culture and a lot of the things they may be deprived of," said Dane Campbell, artistic director for Full Effect Entertainment Theatrical.
Campbell said he saw both mothers and kids from the audience alike clapping and nodding along with Full Effect's performance.
"Being an African-American-based corporation doing positive things, it's important the community sees there are places where they can be creative and artistic," he said.
In its fourth year, the 2012 season of Dance in the Parks brings professional dance performances to five Chicago neighborhood parks and one suburb. With the help of a sponsorship by the Chicago Park District, the program reached more than 1,000 Chicagoans who may not have otherwise had exposure to concert dance.
"We have world-class dance Downtown, but you have to know to go look for it, you have to pay ticket prices and you have to get downtown to the theaters, and not everyone may be able to do all that. So this serves as an introduction and will hopefully break some of those barriers," said Katie McCann, founder and director of Dance in the Parks.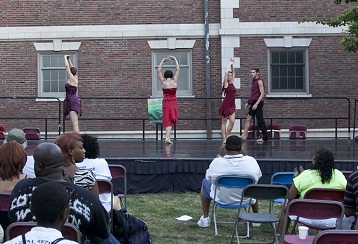 "I don't hear about a lot of concert dance things going on in the neighborhoods away from downtown," she said. "Hopefully we can build up an audience that will enjoy it and seek it out."
The Chicago Park District, the primary sponsor, provides the stage and free space for the performances, as well as helps with promotion. And for the Austin concert, performers were provided, too.
The day before the event, Austin Town Hall Park Summer day-campers learned their routine "You Are What You Play," by two professional dancers who put on a 90-minute workshop.
"The arts and culture play a big part in Chicago Park District programming, and Dance in the Parks is a great example," Marta Juaniza, a spokeswoman for the Chicago Park District, said in an e-mail. "By bringing these admission-free performances into local parks, residents can save themselves a trip downtown and discover a new art form in their own community."
And at least one Austin family expressed appreciation for the arts in their neighborhood.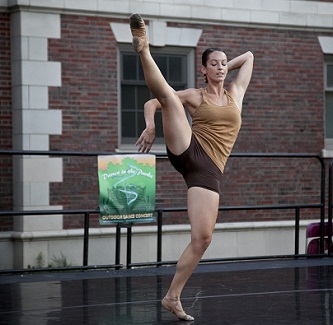 "It's nice for all communities to get a little culture," said Monique Reed-Moore, 31, a life-long resident of Austin.
Her 8-year-old daughter who participated in the Austin Town Hall Summer day-camper performance gave the experience a two-thumbs-up.
"Regardless if it's African-American, Caucasian or Hispanic, dance is universal," Reed-Moore said.
"This is something everyone can enjoy."