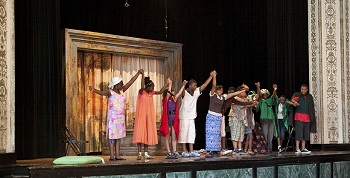 The Austin Town Hall was home to romance, betrayal, lust and humor earlier this month as the Chicago Shakespeare Theater performed "The Taming of the Shrew" as part of the inaugural year of the free, citywide neighborhood tour Chicago Shakespeare in the Parks.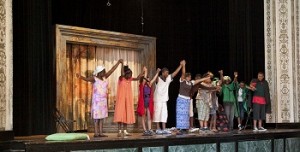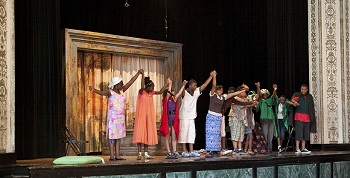 Following a brief warm-up performance by the Austin Town Hall Park Summer day-campers, the words of William Shakespeare flowed for 75-minutes for an audience of more than 50 Aug. 1, as professional actors in Shakespearian costumes danced around the set in Austin Town Hall's auditorium.
"This is a new thing for us; it's great that the kids can see this play production, and we're just so excited Shakespeare is here," said Tebrena Howard-Fears, Austin Town Hall Park's supervisor. Ages 6 to 12, the Austin Town Hall Park Summer day-campers experience cultural and recreational activities weekdays throughout the summer.
"This production is just one of the many things that's helping our campers grow and learn," she said.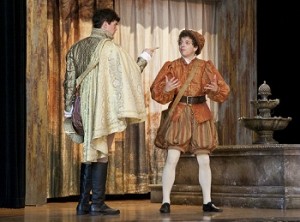 With sponsorships by the Chicago Park District and The Boeing Co., Shakespeare in the Parks kicked off June 19. Free professional performances are being staged in 11 parks, with Austin Town Hall the third stop for the production.
Running through Aug. 19, "The Taming of the Shrew" will visit other central region parks, including Dvorak Park, Douglas Park, Garfield Park Conservatory, Humboldt Park and Gateway Park at Navy Pier.
This year is the first the Chicago Shakespeare Theater has brought performances into neighborhoods.
"For nearly a decade, Executive Director Criss Henderson and I have been dreaming of bringing our work into Chicago's neighborhoods — into communities where you might not find or expect to see this work," Barbara Gaines, artistic director for Chicago Shakespeare Theater, said in an e-mail. "Shakespeare is one of the world's great humanists and his words can bring light and understanding into our lives."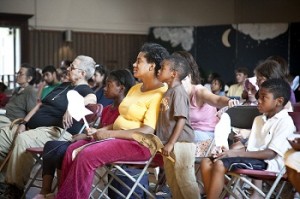 At a time when the West Side neighborhood's news is overwhelmed with violence, at least one family disregarded the hype and traveled from Oak Park to see Shakespeare's words come alive.
"We need to focus less on the violence and negative things, and put more attention on good things like this event today," said Carin McKinney, 32, a five-year resident of Oak Park who enjoyed the performance with her husband, John, and three children, Molly, 2, Ian, 4, and Finn, 11.
"We don't come out here very often. I might not come out in the evening by myself, but I'm certainly not scared to bring my family to this area — Austin Town Hall is beautiful, and I absolutely plan on coming back," she said.
Shakespeare Theater's production of "The Taming of the Shrew" traveled through Chicago Public Schools last year through the 20-year-old arts and education program Team Shakespeare. However, it was available only through the schools.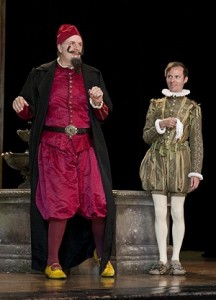 At least one Austin resident is grateful they opened up production to the parks, making it accessible for families and people of all ages.
"Theater is the oldest expression of community, people come together, see a show and appreciate it together — art always does that for a community," said Clyde Seals, 43, a 30-year Austin resident who attended the play with his son, Cly-Juan, 9, and daughter, Markayla, 5.
Cly-Juan saw an advertisement for the production in a local newspaper, prompting the family to take a trip on the train to visit Austin Town Hall.
"It's a family thing; this will help people to come together and get involved," he said.
Starring Ericka Ratcliff as "the curs'd" Katharina and Matt Mueller as Katharina's brave suitor, the production was adapted and staged by Jeff Award-winning director Rachel Rockwell.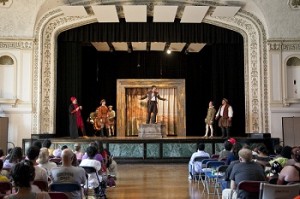 The acting company also includes: Jeffrey Baumgartner, Tiffany Yvonne Cox, Max Ganet, José Antonio García, Eric Leonard, Kate LoConti, Robert Joseph Miller, Karack Osborn, Matthew Sherbach, Mick Weber and Jarrod Zimmerman.