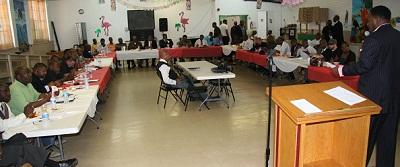 Sixty ministers and pastors from different communities and cultures gathered Tuesday for an emergency coalition meeting to strategize how the faith community can respond to the escalating violence in Chicago neighborhoods.
The meeting held at the Greater St. John Bible Church, 1256 N. Waller, was hosted by The Leaders Network, a clergy-based disaster relief and social justice advocacy organization, and lead by the Rev. Ira Acree, senior pastor of Greater St. John and the Rev. Cy Fields, president of the Leaders Network.
The pastors discussed developing a Faith Community Clearinghouse highlighting the various programs facilitated by churches and other faith-based organizations. The information will be available via website within 10 business days.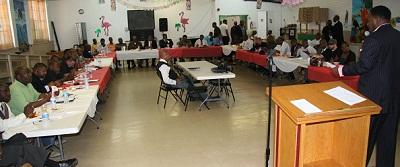 "As I listened to the pastors talk about the number of youth and children activities  that their churches currently host, I was pleasantly surprised," Acree said. "Many safe havens already exist but are underutilized because of limited marketing."
The Rev. Michael Pfleger galvanized the clergy's major concern about the availability and volume of guns on the street, especially assault weapons that are frequently used in fatal shootings.
The Rev. "Slim" Coleman of the Latino community told the coalition the lack of jobs has created a drug economy sustained by the use of guns.
The Rev. Leslie Sanders facilitated discussion about the perceived need for some modifications in police strategy and structure that can make a difference in community relations and curbing violence.
The Rev. Walter Turner expressed concern over the Chicago Public School students not starting school on time and the lack of budget resources to help churches keep children out of harms way during the critical after school hours.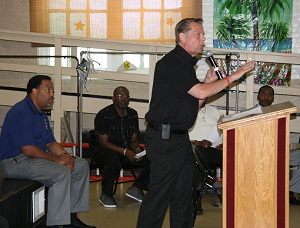 The Rev. Jaques Conway pointed out the challenge faith leaders must take to the entertainment industry that negatively influences many youth with their violent video games and music lyrics.
The Rev. Marshall Hatch announced plans about a Citywide Peace Weekend urging Chicagoans to attend mosques, synagogues, and churches to promote the respect for human life, moral regard, and community mobilization to stop violence. The coalition will also become a vehicle to inform the general public about what community-based organizations are doing to make Chicago a safer place.
Published by our partners at the Austin Weekly News, Hatch outlined what he believes are factors contributing to the violence.  Click here to read that story.
Mr. Larry Greenfield of the American Baptist Churches of Metro Chicago said his organization will partner with the clergy coalition by mobilizing their membership around violence prevention strategies. The clergy unanimously voted to adopt the strategic proposals and initiate an implementation plan of action.