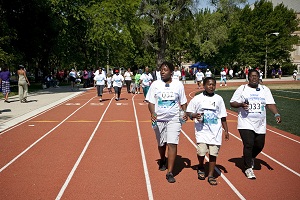 In an effort to fight obesity and promote healthy living in Austin, the Westside Health Authority and Ald. Emma Mitts (37th) sponsored the third annual Healthy Living Walking Challenge at LaFollette Park Saturday morning.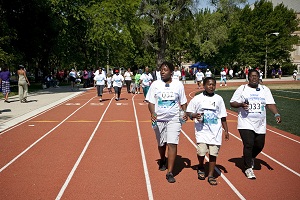 More than 300 residents of Austin and neighboring communities walked around the track while the alderman offered encouragement and the Westside Health Authority provided food and beverages.  The goal for walkers was to circle the track 12 times for a three-mile walk.
"I've been trying to lose weight, so I thought I'd start today," said Shanel Parker, 42, who participated in the walking challenge with her three children. "I've got diabetes and high blood pressure, and this is something positive for me and my family to do together."
Parker has lived in Austin with her mother and children for 10 years: "Austin is a great community and I'm proud that we're doing something so positive."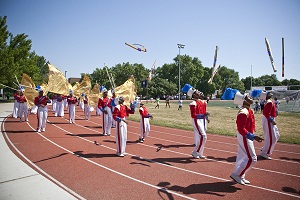 In addition to the walking challenge, the event also offered a range of activities, such as tug-of-war, music played by DJ Rebel X, and performances from the Jesse White Tumblers and the South Shore Drill Team.
"Obesity is running rampant throughout our neighborhood," said Morris Reed, chief executive officer of Westside Health Authority. "Every year we try to encourage people to start the summer off with a good fitness commitment, to use our local parks and resources and to get active so their health is in order."
Reed participated in the event, walking the track alongside Austin residents with his daughter in tow.
"Physical fitness is a big part of prevention for a lot of diseases that affect African-Americans and our community — from diabetes to high blood pressure to heart disease, which is the No. 1 killer," he said. "Outside of all the things people believe are dangerous, like drugs and gun violence, heart disease is a No. 1 killer, and prevention is the key."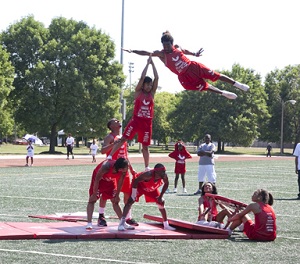 The Westside Health Authority previously reserved invitations to the walking challenge for people who regularly enlist in their programs, but after opening the event to the entire ward and neighboring communities this year, the number of participants more than doubled.
"It's a great day for having a walk!" said Mitts, who was celebrating her birthday and, having just come off a cruise, did not join in.
Mitts was invited to be a co-sponsor of the walking challenge for the first time this year. She said she appreciates organizations like Westside Health Authority for "attacking the issues."
The non-profit Westside Healthy Authority, in its 24th year, serves 22,000 people annually with programs and services, such as the Community Re-Entry and Employment Services Program, which aims to help the formerly incarcerated residents of Chicago successfully reintegrate back into their community.
Other sponsors of the walking challenge include Coca-Cola, Village Bank and Trust, US Bank, Everest College, Chicago Park District, the Chicago Fire Department and LA Fitness.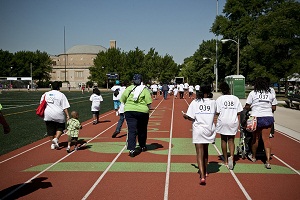 "We want people to keep fit, have energy and get things done," Mitts said. "If you don't use it you lose it… we want people to stay healthy and one way to do it is walking."