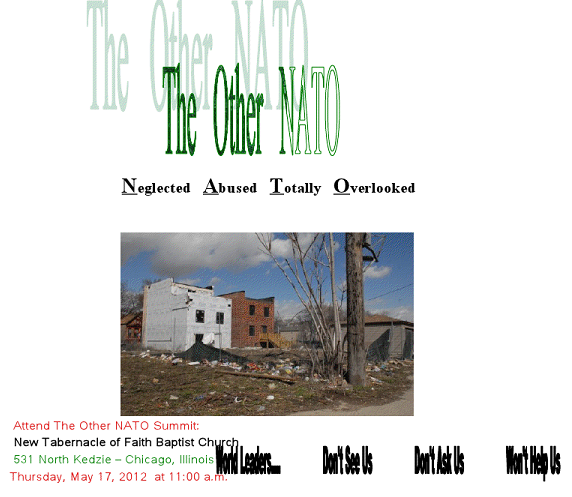 The Rev. Paul Jakes of New Tabernacle of Faith Baptist Church and other concerned members of several West Side communities will lead "The Other NATO" summit and news conference Thursday, taking reporters and camera crews through neighborhoods powerful NATO members will never see.
The Other NATO reflects the neglect and near hopelessness of residents in these communities. While NATO representatives will be showered with luxury, many residents of these communities are just able to meet the bare necessities of life.
"If Chicago can protect and provide for the members of NATO who don't live here, then Chicago should be willing and able to protect and to provide for the people who do live here," Jakes said in a press release.
Organizers of The Other Nato will stand with "those who are unseen and unheard" as they develop strategies for improving the quality of life in the community – for effective learning and high quality education, for economic development/jobs, and for effective and fair police protection.
Thursday's even twill be held at the church, 531 N. Kedzie Ave., at 11 a.m.