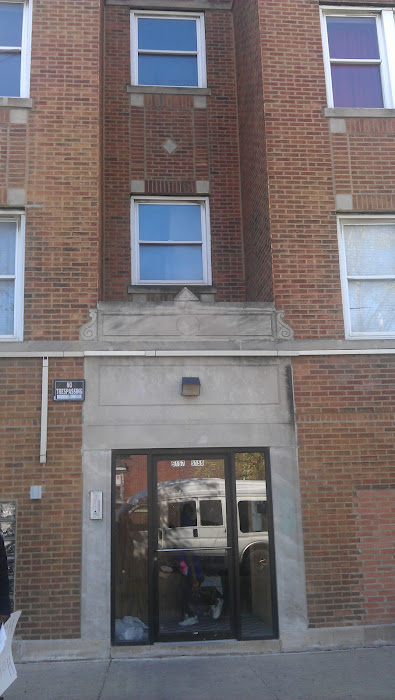 After tenants living in a troubled foreclosed apartment complex in Austin declared last month they weren't going to pay rent until problems in their units were addressed, a new court-ordered receiver was appointed to clean up the building and the city has stepped in,  too.
Some housing experts say the owner of the apartment complex, Berkat Property Management Group LLC, also has a
responsibility to maintain the property and needs to do more to address tenant complaints.
People like Pamela Johnson who reside in the building, at 5159 W. West End Ave., have been living with no heat, leaking ceilings and a bug and rodent infestation since the bank BMO/Harris foreclosed on the property in 2008. The building has 32 units and wraps around West End Avenue to Laramie Avenue. About 17 of the units are occupied.
Johnson, a second-floor tenant who's lived in the building since February, said recently her apartment smells like raw sewage.
"The pipes that go into the basement are not properly installed," Johnson said. "[Expletive] is coming into the basement, and the smell is coming up."
Johnson let AustinTalks see inside the building earlier this month. One apartment building had its front door hanging off its hinges. The tenant in that unit said he hasn't been able to shut and lock his door for more than a year.
"He's been living like this for a long time," Johnson said.
And in the building's back courtyard, which was littered with trash and graffiti, Johnson pointed out at least three
broken or boarded up windows, along with a missing stair on the porch.
A previous resident, Kuntina Hill, lasted only two weeks in the building. She moved in Feb. 3 and said every night she would wake up to bed bugs crawling on her body.
Hill showed AustinTalks pictures of her blood-stained white sheets from where the bugs bit her and sucked her blood. She moved out but didn't receive her money back from the property manager.
Janelle Teague, who moved in Dec. 13, didn't have running water in her unit until February.
"I couldn't wash my kids' butts," she said, adding that when she moved in, she wasn't told the building was in foreclosure.
Johnson and her neighbors have tried their best to find out what's going on with their building. But like other residents in large buildings throughout the city that go into foreclosure, renters who aren't evicted find themselves lost in a maze of legal terms and double talk. Even a trained lawyer would have a rough time figuring out how the building at 5159 W. West End Ave. got into the shape it's in.
For starters, BMO/Harris bank no longer holds the mortgage of the troubled building, so technically it doesn't have a financial interested or responsibility to upkeep the property, said Angela Maurello, vice president of the Chicago-based Community Initiatives Inc., a subsidiary of the non-profit mortgage lender Community Investment Corporation that buys and rehabs apartment buildings.
To speed up pressing issues in the apartment complex, the city hired Community Initiative Inc. as the emergency receiver. Community Initiative Inc. is required to turn on the building's utilities, replace broken windows and fix a plumbing and electrical issue, according to the court order on April 10 provided by Chicago's Law Department.
The limited receiver will have 14 days to make the necessary repairs and prove the fixes have been made during a May 29 court appearance, the document states.
Maurello said most of the repairs, which are being paid for with city funding, have been completed, and all the utilities are on in the building.
"I'm happy to a certain extent that things are getting done," Johnson said.
But Maurello stressed that it's not only a receiver's responsibility to maintain the property.
The Harwood Heights-based Berkat Property Management Group purchased the mortgage in 2008 and currently owns of the property. Maurello said the management group "should be doing more."
"Essentially, they are the bank," Maurello said. "Berkat holds the mortgage, so they should be accountable."
Elce Redmond, housing expert with the South Austin Community Coalition, agrees.
"They are the owners of the building and have a responsibility to make sure the building is maintained," Redmond said. "The receiver is only temporary."
No one from Berkat Property Management Group could be located for comment for this story. The company is "involuntarily dissolved," according to the company's file on the Illinois Secretary of State's web site. The management group doesn't have a web site and at least two numbers found on online company directories don't work or go straight to voicemail.
The Chicago-based company, First Western Properties, was the building's original receiver, acting as its landlord until Judge Mathias Delort in Cook County's Housing Court released the company of its duties and ordered Mike Zucker of Peak Properties to take charge of the property on April 11.
Redmond said changing receivers is "pretty common" with foreclosed properties that have "a lot of issues."
"One receiver, for whatever reason, doesn't do what it's supposed to do," Redmond said. "I've seen that in several instances over the years. One receiver says, 'Well, the issues are too big for us to handle' and they go to court and say, 'We can't do it.'"
Redmond said changing receivers makes the building someone else's problem, starting the whole process over and causing even more headaches for renters.
"That's why the tenants called for the rent strike and made it very clear that they aren't going to pay rent until the issues are addressed," he said.
As the building's receiver, Peak Properties will be required to collect rent from tenants and address their concerns, basically acting like the landlord. Receivers are assigned by a court temporarily while a building is in foreclosure.
"They're responsible to make improvements, but they are probably very limited to whatever rent collections come in," said Bob Palmer, policy director of Housing Action Illinois.
Palmer agreed that it's not unusual for receivers of a foreclosed property to hop around from one property to the next during the foreclosure process, and that worries Johnson.
"(First Western Properties) don't want to have the blame, so I think it's being transferred to one person to the next person," Johnson said.
The problems in the building aren't new. They stem longer than First Western Properties' receivership. Data from Chicago's Department of Buildings show the property has had more than 25 failed building inspections from the city dating back to 2005.
Caroline Weisser, a spokeswoman for Chicago's Department of Buildings, said the more serious and repeated violations include safety concerns of the back porch, such loose hand railings, no hot water in the units and mice throughout the building.
A specific number of how many foreclosed properties in the city are occupied with tenants is not easy to come by, said Roderick Drew, spokesman for Chicago's Law Department.
"If we had to guess, it could be in the thousands, even tens of thousands, but that's just a guess based on no actual data," Drew wrote in an emailed statement.
Johnson she said she's worried that if Peak Properties can't turn around the building, another receiver will step in and continue to drag out the repairs.
"How long is this going to go?" she said.
Zucker declined to comment on the building for unspecified legal reasons but did confirm that Peak Properties is stepping in as receiver.
Maurello said Peak Properties is in "an awkward position."
"They're a very good receiver, but if they have no money to fund the property, then they have no money," she said. "They aren't like us who have funds from the city. If the lender won't give them money, they are out."