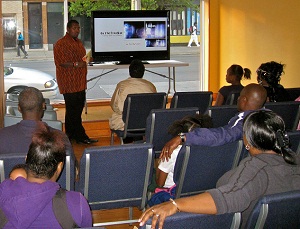 Residents gathered May 17 for the debut of On The Front Line, a documentary featuring Austin, which focuses on solutions to the community's problems and shows the consequences of violence.
The screening, held at Genesis On the Ave, 5811 W. Chicago Ave., is a joint effort put on by the Black Star Project and resident Roman Morrow.
After the screening, a lively discussion was conducted by Derek Grace, the documentary's director.
Founder of the Black Star Project Phil Jackson said the key to solving the community's problems is making sure young black men have jobs.
According to Ken'te Kizer, Austin resident and Black Star Project representative, there are plans to continue showing the documentary in several West Side schools, and another screening will be in the Austin area in the future.
Wall Street Popcorn in Oak Park donated popcorn for the event.