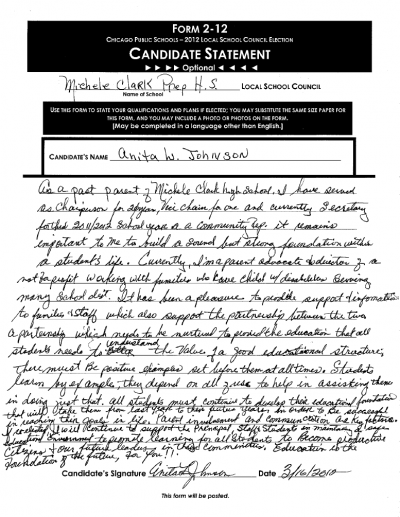 Michele Clark High School faces a shortage of candidates for its April 19 local school council election, a situation that could limit the council's voting power if there aren't enough members to reach a quorum during meetings.
The grade 6-12 magnet school, located at 5101 W. Harrison St., has spots for six parents, two community members and two parents on its local school council, a board that oversees the school's budget, leadership and other matters. The school's principal also serves on the council, and in high schools there is a seat for a student representative.
But just two parents and two community members from Clark are running for the election, leaving vacancies for four parents and two teachers.
"Through BuildOn, I have worked directly with Michele Clark students and teachers to learn about issues around Chicago and the world, and to take action to alleviate problems," Boye wrote in his candidate statement, which is posted at the school. "I have also had the fortune to lead a Michele Clark student to help build a school in Malawi, southern Africa, and will guide two students and a teacher to Nicaragua, Central America, this coming summer."
Sherri Blumingburg, the parent of two Michele Clark students, is the current chairperson of Clark's local school council. She formerly worked at the high school as a security guard and girls' softball and basketball coach before being laid off last year for budget reasons, she said. This is Blumingburg's first year serving on the council.
Blumingburg named low parental involvement as one of the biggest problems facing Michele Clark. "We're talking about a school of almost 1,000 kids with very low parental support," she said in an interview with AustinTalks. "There's going to have to be a different type of communication effort done in order to try to get people concerned and involved."
Anita Johnson, a community member and parent of a former Michele Clark student, is currently secretary of the local school council and previously served as chairperson and vice-chairperson. She is a parent advocate and director of a nonprofit organization working with families who have children with disabilities, according to her candidate statement.
"Students learn by example, they depend on all of us," Johnson wrote in her statement. "Parental involvement and communication are key factors."
Flanella Lindsey, a parent, does not currently sit on the council. In her written statement, Lindsey said, "I plan to help get parents involved with their child's or children's education … I will help with activities when I can and help in other places when I'm needed at."
A short-handed local school council is not new at Michele Clark, Blumingburg said: The school's current council also has four vacant spots. This has prevented the group from voting when a quorum of seven or eight members, depending on the topic, could not be reached.
While local school councils have the power to appoint individuals to fill vacancies, simply finding people to take on the role has been a challenge, the chairperson said.
"For (the council's) March (meeting), we didn't have a quorum at all," Blumingburg said. "There's not a lot we can do without a quorum."
That's not unusual for high schools, said Jill Wohl, a board member for Raise Your Hand, a coalition of Chicago and Illinois public school parents, teachers and concerned citizens.
"Parental involvement often diminishes (in high schools) because of burnout, or because kids don't want their parents around as much," Wohl said. "It's really a shame."
Created in 1988 by the Chicago School Reform Act, local school councils are responsible for approving their schools' budgets, approving school improvement plans, and hiring and firing their principals. Their meetings are open to the public.
Voting at Michele Clark and other high schools will be open from 6 a.m. to 7 p.m. on Thursday, April 19 (report card pick-up day).
See optional candidate statements below: